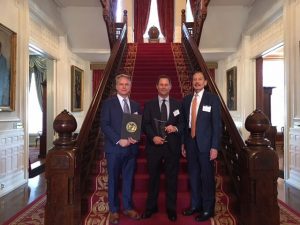 LEXINGTON, N.C. — February 8, 2023 — The Governor of North Carolina, Roy Cooper, has recognized Navis TubeTex with the Governor's Award for Excellence. This award is given each year to recognize one North Carolina company that has made significant contributions in the effort to increase North Carolina exports. Navis TubeTex has worked with Economic Development Partnership of North Carolina for more than 10 years with exhibition cooperation in many of the world's textile centers with Senior International Trade Manager Glenn Jackman.
The Award was presented at the Governor's Mansion in Raleigh. President and CEO William Motchar and Senior Director – International Sales Jeffrey Dixon were present to receive the award on behalf of Navis TubeTex.
Navis TubeTex is a supplier of finishing machinery for the global textile industry. Based in Lexington, N.C., Navis TubeTex designs, engineers, and manufactures machinery for the global knit, woven, nonwoven, technical and geotextile industries. Navis TubeTex has customers in over 65 countries.
Posted: February 13, 2023
Source: Navis TubeTex