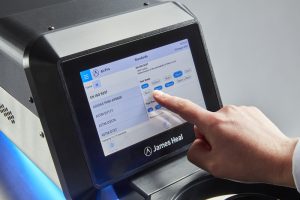 HALIFAX, England — September 26, 2022 — Long-standing BTMA member James Heal is celebrating its 150th anniversary this year, with the company's formation dating back to 1872, when it was listed as an oil and tallow merchant and mill furnisher in Yorkshire, England.
"Remarkably, this was seven years before Thomas Edison's successful invention of the lightbulb, which itself can be considered something of a textile innovation," says Neil Pryke, UK managing director of James Heal's parent company since 2014, PPT Group. "Its world-changing introduction centred around an uncoated cotton thread that when carbonized to become the filament, could last 14.5 hours."
Needless to say, on its journey to becoming the leading testing equipment manufacturer for textiles and nonwovens it is today, there have been many internal lightbulb moments within the James Heal organization over the years — as early as 1899 there are records of the delivery of the first twist tester by the company to a local mill.
Fast forward to 2022 and James Heal continues to expand its range, with a  focus on making testing simple, fast and intuitive — most notably with the introduction of its Performance Testing collection of instruments, most recently the AirPro and HydroView systems.
AirPro
The new James Heal AirPro air permeability tester is used to test the resistance of the flow of air through woven, knitted and nonwoven textiles. Its software offers flexibility with standards and  comprehensive reporting options and different test head sizes are available, making it suitable for a range of applications and standards
"The way clothing interacts with the body, particularly in respect of the dissipation of heat and moisture, plays a major role in the wearer's perceived comfort," said James Heal technical specialist Peter Goodwin. "Today, textile fabrics used for clothing have new functional properties to improve the wearer's sensory and thermal comfort, meaning that air and water vapour permeability is crucial to achieving clothing comfort — particularly for performance apparel such as sportswear and outdoor clothing.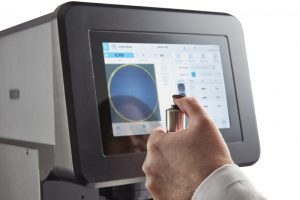 HydroView
The HydroView hydrostatic head tester is meanwhile designed to measure the penetration of water in materials which have an end use that requires water resistance, such as those in the medical, geotextiles and nonwovens sectors. It is also proving essential in the testing of end-use applications for technical textiles, such as in protective gloves, diving dry suits and winter sports apparel, to fishing waders, roofing, tenting, ground sheets and more.
"As more and more brands are investing in new materials and making performance claims on water resistance and waterproofing, the hydrostatic head test is one of the most common ways to test," says James Heal's technical specialist Lisa Keeling. "An example of where hydrostatic pressure might be important, is in testing the groundsheet of a tent, for example. This needs a high resistance to water penetration, especially when placed on saturated ground. When pressure is applied to the ground sheet by people standing, sitting or sleeping on it, water could then be forced through. Failure in this area would mean anything in contact with the groundsheet will become wet."
This is also the case with a performance garment claiming waterproof properties, she adds.
"You need a high hydrostatic head value to demonstrate its defenceability against driving wind, rain and other physical factors. Water pemetration testing is key to understanding the performance of a garment in adverse weather conditions.
"HydroView was developed following extensive user research from which James Heal's innovation team discovered that users were looking for a more flexible and user friendly instrument than was available on the market. With its manual droplet data-capture, combined with 'pinch & zoom' hi-res camera analysis, HydroView was designed for the user."
"James Heal's testing instruments are trusted and valued by thousands of manufacturers of textiles and nonwovens around the world," adds Jason Kent, CEO of the British Textile Machinery Association. "The company has made a solid contribution over many decades to the quality and performance properties of today's textile products, and just as importantly, enabled its customers to prove their claims."
Posted: September 26, 2022
Source: The British Textile Machinery Association (BTMA)