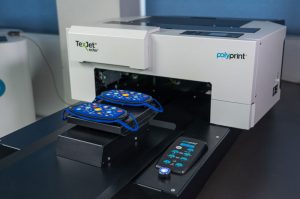 THESSALONIKI, Greece — January 14, 2021 — Polyprint, a specialized direct-to-garment printer manufacturer, announced the creation of a new addition to its product portfolio — the 2-IN-1 'Fit & Flat' Snap-On, face mask platen.
Garment decorators can now broaden their printing portfolio with personalized face masks. Polyprint's 2-IN-1 face mask platen allows TexJet users to print on both Fit and Flat type masks. Dtg printers can now use one main platen with two different set-up options: The Fit type for triangular masks and the Flat type for flat masks. It's also simple to swap from Fit to Flat upon their production needs.
"It's snap-on design allows easy placement and quick runs. Created due to popular customer demand, Polyprint aims to improve the dtg printing market by pushing forward with new products that help DTG businesses stay at the top of their game." said George Benglopoulos, CEO of Polyprint.
The new face mask platen is compatible with TexJet® echo2, shortee2 and echo. Users will require to perform a Firmware upgrade, as well as a Software update in order to obtain the new Cadlink face mask templates.
Snap-on Face Mask Platen
1 main platen
2 Flat type plates for flat masks
2 Fit type plates for triangular masks
Easy to swap between the two
Simple to replace, due to its snap-on design
Compatible with TexJet® echo2, TexJet® shortee2, TexJet echo
Posted January 20, 2021
Source: PolyPrint