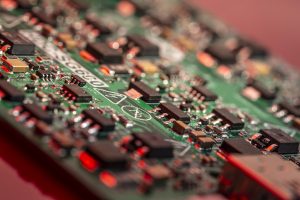 CAMBRIDGE, England — October 1, 2018 — Meteor Inkjet, an independent supplier of electronics and software to drive industrial inkjet printheads, further expands its product portfolio with the addition of the HDC-SG600 Head Driver Card, Printhead Evaluation Kit and Waveform Development Kit for FUJIFILM Dimatix SG600 printheads.
Formally launched today by FUJIFILM Dimatix, the SG600 recirculating printhead is suitable for textiles, corrugated packaging, ceramics, and many other industrial print applications. The SG600 is in the same printhead family as the highly successful SG1024 but takes the native resolution up to 600dpi. This allows printer OEMs to offer much higher ink deposition or finer detailed imaging at desired print speeds.
Each Meteor HDC-SG600 Head Driver Card (HDC) drives one SG600 printhead supported through a Meteor PCC-E GbitE Print Controller Card (PCC) which can accommodate up to eight HDCs.  Multiple PCCs can be linked seamlessly to drive up to 2024 printheads. Used in conjunction with the electronics, Meteor's powerful software supports a wide range of applications and allows print system builders the flexibility to design as much or as little of the Digital Front End as they choose.
In addition to electronics and software for the SG600, Meteor also offers a Printhead Evaluation Kit and a Waveform Development Kit to ease print system design and significantly speed time to market. Multi-head, multi-ink configurations can be evaluated and integrated using electronics and software that can then be transferred straight to manufacturing.
Clive Ayling, Meteor's managing director commented, "We have a long history of collaboration with FUJIFILM Dimatix, having launched our first Meteor-branded drive electronics for Dimatix printheads in 2006.  We are proud to be the first supplier to offer production-ready electronics, software and evaluation equipment for the new SG600 printhead and we look forward to providing customers an easy to integrate, scalable solution with the assurance of long-term, reliable supply for both development and production requirements."
For more information, visit Meteor at TheIJC (Stand A6) in Düsseldorf, 16-17 October 2018.
Posted October 2, 2018
Source: Meteor