Carpet manufacturer Al Abdullatif Industrial Investment Co., Saudi Arabia, has ordered five S+
three-end bulk continuous filament (BCF) yarn systems from Oerlikon Neumag, Germany.
The order includes three S+ BCF systems for mono-color polypropylene and two for polyester.
The systems, scheduled to come on-line at the beginning of 2014, will produce approximately 13,000
tons of carpet yarn annually.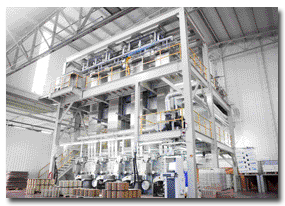 Oerlikon Neumag's S+ BCF System
Oerlikon Neumag notes that the S+ system enables up to 25-percent increased productivity,
with 99-percent efficiency and low wastage, and also is cost-efficient. The system combines
advantages offered by the company's S5 and Sytec One systems including improved winder design and
optimized yarn path.
July/August 2013