Saudi Arabia-based Al Abdullatif Industrial Investment Co. — a vertically integrated manufacturer
of high-end tufted and woven carpets — has placed a major order with Oerlikon Neumag, Germany, for
five S+ three-end bulk continuous filament (BCF) yarn systems.
The contract includes three S+ BCF systems for mono-color polypropylene and two for
polyester. The systems are scheduled to commence production at the beginning of 2014 and will
produce approximately 13,000 tons of carpet yarn annually.
According to Oerlikon Neumag, the S+ system enables up to 25-percent increased productivity,
with 99-percent efficiency and low wastage, and also offers cost advantages. The system, which
combines advantages offered by the company's S5 and Sytec One systems including winder design
improvements and an optimized yarn path, has been available for processing polyester yarn for the
past year.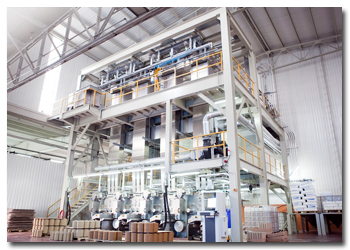 Oerlikon Neumag S+ BCF system


Al Abdullatif Industrial serves a broad international market, and its production capacity
totals approximately 125 tons of carpet yarn per day. "With this additional equipment from Oerlikon
Neumag we will further strengthen our market position in the growing carpet yarn market," said
company CEO Al Abdullatif Al Abdullatif.
June 25, 2013