GENEVA — February 25, 2013 — SGS India is pleased to announce that its largest laboratory and
facility has been officially opened by Chris Kirk, Chief Executive Officer, SGS Ltd. in December
2012 in Chennai, India. Located at Ambattur, Chennai, the facility houses multiple state-of-the-art
laboratories along with inspection and audit services.
The new state-of-the-art facility in Chennai has been designed to offer testing, inspection
and certification services for textile, footwear, PPE, food, environmental, agricultural, minerals
and industrial products. The laboratory and facility adheres to the best quality standards set by
the industry and regulatory bodies alike.
In addition to being SGS' largest laboratory in India, the facility is also the most
efficient one,with special emphasis being placed on work flow movement. The facility is also a
benchmark in meeting SGS' commitments to corporate sustainability, with solar powered external
lighting, rainwater harvesting, a building management system and dedicated Zero Discharge Effluent
Treatment Plant (ETP) enabling considerable water saving every day.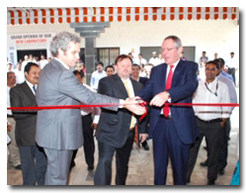 Officials cut the ribbon to inaugurate the new SGS laboratory in Chennai, India


The facility comprises of the following key laboratories among others:

– Personal Protective Equipments (PPE) Testing Laboratory

– Restricted Substance and Product Testing Laboratory

– Footwear Testing Laboratory

– Microbiology Laboratory

– Pesticide Testing Laboratory

– Environmental Laboratory

– Mineral Laboratory

– Food and Agriculture Laboratory
Speaking on the occasion, Chris Kirk, Chief Executive Officer, SGS Ltd. said: "Our new
laboratory and facility in Ambattur, Chennai will help us to offer world class services to our
clients and set a new benchmark in the Testing, Inspection, Verification and Certification space,
helping us further to achieve our goal of being the best service organization in the world."
The addition of this new laboratory and facility in the SGS network will add new capabilities
and capacities to the ever expanding SGS India network.
Posted on February 26, 2013
Source: SGS Consumer Testing Services