UCMTF groups 35 specialty machinery manufacturers, often world leaders on their specific markets.
The French Textile Machinery Manufacturers Association is an internationally active organization.
Bruno AMELINE, the President, and Evelyne CHOLET, the Secretary General, travel worldwide to meet
the textile producers and the textile media.

In which sectors is the French machinery particularly strong?



Bruno Ameline: I would like to remind the illustrious name of JACQUARD, the French
inventor of the most sophisticated weaving technology. The French machinery manufacturers have
played a particularly important role in the historical development of the textile industry and will
continue to do so. That's our technical tradition.
For the long fibre spinning industry, we develop new techniques to improve dramatically the
quality standards, the operating and maintenance costs, and on line quality controls. The
innovating range includes the design of complete lines.
For the twisting and texturing of yarns, we offer our customers the opportunity to develop
high-tech yarns for traditional and technical applications as glass fiber or tyre cord. Heat
setting processes evolve thanks to many breakthroughs and offer new functionalities to yarns, for
the carpet industry particularly.
Jacquard machines and dobbies developments make feasible spectacular increases in the speed
of the production processes together with higher quality and more reliability.
Dyeing consistency improves together with energy and water savings which, without our
technical developments, would have been thought out of scope a few years ago.
In new sectors of the textile industry like the nonwoven processes which are growing fast for
such applications as hygiene products (diapers, wipes), geotextiles, filtration …, the French
machinery is also at the pinpoint of innovation.
Recycling the textile materials at the end of their life cycle and transform them into new
products,being environmentally friendly, is also an issue on which the French machinery
manufacturers are among world leaders.
In a word, the French machinery manufacturers offer the best, most reliable, most productive
and energy efficient processes both for the traditional applications and for new sectors in the
industry.

Is there a specific commercial strategy?


Ameline: We have both commercial and technical traditions and French machinery
manufacturers build their commercial strategies on these traditions. Blending tradition and
innovation is a winning strategy.French machinery manufacturers are less and less offering standard
machines but, more and more,tailor made solutions designed with their customers and partners to
enable these customers to introduce new products with high added value and compete successfully in
their own national market and in the open world.
Personal contacts are necessary to achieve this goal: permanent agents in each country,
numerous visits by experts from France, participation in events or shows.
It would be too long a list to mention all the textile shows our companies will attend in
2012. To name, just a few: Megatex and Igatex, both in Lahore (Pakistan), ITM in Istanbul (Turkey)
ITMA ASIA + CITME in Shanghai (China), India ITME in Bombay (India), the various Techtextil
(Russia, America, China), the JEC composite shows in France, etc.
After having organized seminars in Turkey, Syria, India and Brazil recently, UCMTF organized
a conference in Bandung (Indonesia) in early 2012 with the support of Ubifrance, France's agency
for international development, of API, the Association of Indonesian textile, the Indonesian
Ministry of Industry, the textile center of Bandung and the HSBC Bank. As we want to be partners
for the local companies, we were particularly pleased that textile companies attended not only from
Bandung but also from Jogjakarta, Samarang, Solo, Surabaya. You can see that on each national
market, we go as deep as possible into the roots of the local textile industry.

Which services can you offer to so many customers in so remote places?

Ameline: Each company has organized the best service to help his customers get
the best productivity from their equipment with on line service, quick delivery of spare parts,
etc. It is a key request that French manufacturers consider as an essential part of any deal.
We are SME's, and organizing such a service was a real challenge. We have done it country by
country, with our own experts and with local representatives. Being as close as possible to our
customers is part of our genetics, of our DNA.
I would like to add, concerning spare parts, that, as an organization, UCMTF works to
increase the awareness of our customers on risks associated with not using original spare parts and
to help our members organize the best logistics to deliver them.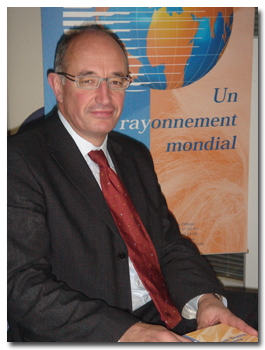 Ameline

Can you tell us about the current state of your industry?

Ameline: Our activity has rebounded since 2010 but has not fully recovered the
best levels it achieved before the financial and economic crisis which hit mostly North American
and European markets.
ITMA 2011 in Barcelona was a very active and professional fair. Textile producers came with
very interesting projects and many have turned into orders but quite a number have not yet. I
believe this is mainly due to the increasing financing difficulties. The textile producers are
often family run companies looking for long term growth and not for short term profits. They want
to open new markets or develop existing ones, they want to optimize their productions processes and
have very well planned investments projects. On the other hand they can be constrained by the
economic slowdown in Europe and, more recently, even in China. The United States now seems to be on
a growth path again which may contribute to boost the global economy. The other obstacle is the
credit crunch, we European have been dealing with it for quite a while and therefore have found
creative solutions.
All together most of our activity is now secured for 2012 but, visibility is still limited
into 2013.For the long term, we remain quite optimistic as we trust our strategy is right; our
industry will continue to innovate and its structure will evolve. Reorganization in the machinery
industry has been quite active recently all over the world, in France too.




Can you tell us how UCMTF participates in the long term strategy of your members?


Ameline: Concerning R and D, UCMTF is active promoting the energy savings that the
textile production processes can favour. Concerning our marketing strategy, I already explained our
collective approach of some strategic markets. As an association we promote our members
participation at the major textile shows and work closely with the textile media.
Another important objective of our association is to promote our industry among the
engineering and management schools. For that purpose we organize a Forum and finance an UCMTF prize
through the prestigious "Challenge ITECH".
It is important to remind that France is the 6th textile machinery exporter worldwide.
Together the 35 manufacturers' annual exports exceed 1 billion Euros (1.3 billion USD)
UCMTF is a member of CEMATEX, owner of the ITMA brand.

The web site www.ucmtf.com is a hub for the French machinery manufacturers.

Posted on April 23, 2012
Source: UCMTF