Paris-based Lectra, an integrated technology solutions provider for fashion and soft-goods
applications — together with the National Chamber for Italian Fashion, a nonprofit association that
governs, coordinates and promotes the development of Italian fashion globally — has launched the
second Fashion Incubator Project. Created to support young talent in the Italian fashion industry,
the project will enable designers from Italian companies to present their collections at Milan
Fashion Week, which will be held Sept. 20-27, 2008. Lectra will offer its Kaledo suite of design
software to the designers so they can

develop their collections more effectively for presentation at Fashion Week.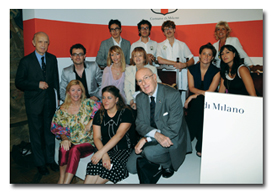 The Fashion Incubator Project supports young talent in the Italian fashion
industry.
In other company news, Lectra recently held its first Education Congress. The company hosted
participants from reputable fashion schools and universities in the United States, Europe and China
for two days of seminars in Bordeaux, France, where they networked and shared experiences and
expertise with Lectra specialists, for the purpose of building a think tank focused on the fashion
schools' and universities' needs.
September/October 2008