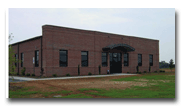 Advanced Testing Instruments Corp. (ATI) has moved its North American corporate
headquarters to a new location in Greer, S.C. The new headquarters, located at 203 Parksouth Drive,
has triple the warehouse and showroom space of the previous quarters. The company has retained its
phone and fax numbers, and e-mail and website addresses.
"This expansion will give us the ability to better serve our customers," said Tim Ziegenfus,
president and CEO. "By having larger on-hand quantities of our key instruments such as our Digital
Air Permeability Testers, Nu-Martindale Abrasion Testers and others, we can assure a quick response
to a customer's needs. Our new state-of-the-art showroom will allow us to run confidential trials
for customers without sending their samples to one of our European locations."
ATI is the exclusive North American representative of Milan-based Co.Fo.Me.Gra. S.r.l.,
England-based James H. Heal & Co. Ltd., Australia-based IDM Instruments Pty. Ltd. and
Switzerland-based Textest AG.

September/October 2006