Covercraft Industries Inc., Pauls Valley, Okla., is adding to its computerized, ceiling-mounted
Eton 4000 conveyor system from Eton Systems Inc., Alpharetta, Ga. — a subsidiary of Eton Systems
AB, Sweden — at its manufacturing facility in Wichita Falls, Texas.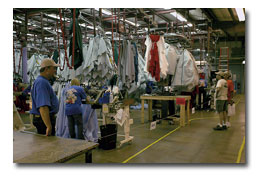 The Eton 4000 conveyor in use at Covercraft Industries


The Eton upgrade will enable the custom vehicle cover manufacturer to add more loading,
sewing and packing stations to its existing system. Additionally, Covercraft is automating its
silk-screen printing process by installing a new sorting and handling system as part of the Eton
4000.
"With Eton, we have been able to double our operators' productive needle time," said Marty
Lichtmann, president, Covercraft. "This translates into an average increase in overall productivity
of 50 percent to 60 percent."
January/February 2006