Textechno Herbert Stein GmbH &
Co. KG, Germany, a manufacturer of testing equipment for textiles and man-made fibers, has acquired
the assets of Austria-based Lenzing Technik GmbH & Co. KG's Lenzing Instruments division. All
assets and activities of the division have been transferred to a new company called Lenzing
Instruments GmbH & Co. KG.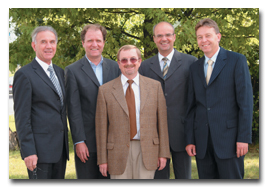 Left to right: Wolfgang Stein, Ph.D., chairman, Advisory Board, Textechno; Chris Reisinger,
Ph.D., Management Board member, Lenzing AG; Heinz Schneider, general manager, sales, Lenzing
Instruments; Josef Baumgartinger, managing director, Lenzing Instruments; and Ulrich Moerschel,
Ph.D., managing director, Textechno



Lenzing Instruments, a producer of staple fiber and filament yarn testing equipment, and
Textechno will work in partnership, which they say will allow them to bundle resources and create
manufacturing, technological and marketing synergies.
Measured Solutions Inc., Greenville, is Textechno's exclusive sales and service agency in the
United States and Canada.

November 2004