The Association of German Textile Finishing Specialists (VDTF) recently awarded its Egon-Elöd Prize
to Ralf Pleva, Ph.D., president of Germany-based Pleva GmbH. The award was presented in recognition
of scholarly essays published by Pleva to report innovative measuring and control systems used in
textile processing. Recent innovations relate to picture evaluation in finishing, weft yarn
detection in automatic weft straightening, and fabric moisture and temperature measurement.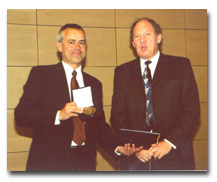 Ralf Pleva, Ph.D. (left), receives the Egon-Elöd Prize from VDTF President Eckhard
Schollmeyer, Ph.D.
A team of process, physical and electrical engineers, and computer scientists at Pleva also
has been involved in the development of the company's technologies, most of which have been
patented.



September 2003