Austria-based Starlinger
Maschinengesellschaft Lenzing (SML) mbH reported 2002 was a banner year for sales of its extrusion
lines for filament and its coextrusion lines for film, sheet and laminates. The company, founded in
1995, experienced its best year ever, with sales up 17 percent — to 47 million euros — over 2001
sales, which totaled 40 million euros.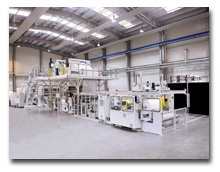 SML's coextrusion cast film line with integrated MDO unit and in-line lamination is used to
produce textile backsheet for the hygiene industry.


Based on contracts signed to date
this year and on its own internal forecasts, SML expects to realize continued sales increases in
2003 despite rigorous competition in international markets, according to Bruno Haider, managing
partner. The company exports its products to more than 80 countries.
SML recently sold a coextrusion cast film line with in-line MDO unit to a Czech
Republic-based customer in the hygiene industry. The line is the 12th SML line sold into that
sector for production of breathable film. The company also has received an order for a high-speed
extrusion coating line.

May 2003