The Spanish Association of Textile Machinery Manufacturers (AMTEX) is implementing a strategy to
give Spanish companies opportunities to expand their presence in the Chinese textile market. The
organization, an affiliate of the Spanish Association of Export Companies (AMEC), has been
coordinating with Chinese economist Feng Jiang to develop the plan.
Although Spanish textile machinery companies installed a number of turnkey projects in China
during the early 1990s, their focus more recently has centered on Latin America and Europe. Now
they are once again turning their eyes toward China.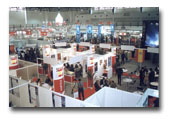 Spanish pavilion at CITME 2002
At the most recent China International Textile Machinery Exhibition (CITME 2002), held last
October in Beijing, eight Spanish companies exhibited together in the AMTEX pavilion. Looking
forward to ShanghaiTex 2003, to be held in June of this year in Shanghai, AMTEX reports more than
25 companies have already requested participation in a pavilion to be sponsored by the Spanish
Trade Institute (ICEX).
AMEC-AMTEX also has established a delegation in Shanghai to provide services to customers in
China, as well as to organize technical seminars in China's textile centers and to collaborate with
a Chinese textile university to establish a technology center.



February 2003