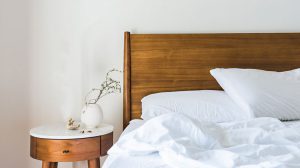 Cotton Incorporated's RESTech COTTON™ technology imparts increased softness, moisture management properties and durability to cotton sheeting for a more restful night's sleep.
By Rachael S. Davis, Executive Editor
When polled by Cary, N.C.-based Cotton Incorporated as part of a Home Textiles Survey, 79 percent of respondents said quality is a priority when choosing sheets, 70 percent actively seek 100-percent cotton goods and quality bedding translates to better sleep according to 87 percent of people polled. In addition, 71 percent express a desire for environmentally friendly textiles.
Cotton Incorporated's latest innovation, RESTech COTTON, uses advanced chemistry to create a 100-percent cotton sheeting solution that checks all the boxes to meet those consumer concerns and produce a restful night's sleep. The company reports the technology brings comfort, durability and softness to sheeting products, while remaining an ecofriendly choice because it's biodegradable and recyclable.
According to Cotton Incorporated, RESTech COTTON-treated sheets are up to 40-percent softer than untreated cotton sheets, with durability that beats polyester and rayon when tested against ASTM D3885 – Standard Test Method for Abrasion Resistance of Textile Fabrics. In addition, RESTech boosts the natural moisture management and thermoregulating properties of cotton, and  may dry up to 50-percent faster on the skin, thus providing cool comfort for hot sleepers. Cotton also is a naturally hypoallergenic fiber that is gentle on the skin for people with skin sensitivities.
The technology is applied as a finish using a standard pad-dry-cure application after the sheets have either been bleached to a finish white or dyed.
According to Mark Messura, senior vice president, global supply chain marketing for Cotton Incorporated, the cotton-specific innovation was designed for practical implementation and may be licensed from the company with the only requirement that it be used on 100-percent cotton fibers. However, there may be further applications for the technology that will be introduced in the future.
"RESTech COTTON technology takes the best attributes of cotton and cotton finishes to create a unique, durable product with non-fluorine technology," noted Dr. Hongqing "Mike" Shen, vice president and managing director of product development and implementation for Cotton Incorporated. "It allows sheets to hold less moisture, dry more quickly, maintains remarkable softness and comfort. This combination makes it a triple threat."
"With our RESTech COTTON technology, we've captured the timeless comfort of cotton and enhanced it with modern innovation, redefining the possibilities of a good night's sleep," said Jennifer Lukowiak, director, supply chain marketing, for Cotton Incorporated. "This technology is a perfect choice for those seeking not just better sleep but a more sustainable one. It's another proud mile-stone in our continuous effort to promote the natural excellence of cotton."
---
For more information on RESTech COTTON™ please visit cottonworks.com /restech-cotton.
---
September/October 2023