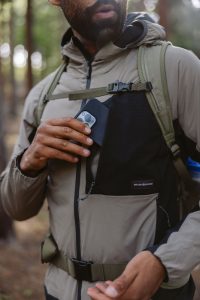 Green Theme Technologies' EMPEL™ offers apparel brands like Artilect a sustainable, PFAS-free option for water repellency.
By Rachael S. Davis, Executive Editor
Brands often lead the way when it comes to sustainable textile products as they look to make the best products for the planet while satisfying consumer demands. Boulder, Colo.-based outdoor brand Artilect is one such company.
According to Artilect Founder Trent Bush, the company's mission is to improve performance for both people and the planet at the same time. With this in mind, choosing a durable water repellent (DWR) for its outdoor clothing means choosing a per- and polyfluoroalkyl substances (PFAS)-free solution is of the utmost importance.
After researching available options, Artilect chose EMPEL™ from Green Theme Technologies Inc. (GTT), Rio Rancho, N.M., to protect products including its new Darkstart Fusion jacket, which is part of Artilect System's (A/SYS) collection of apparel.
The EMPEL platform is built on the principles of clean chemistry, and in addition to being PFAS-free, also is a water-free technology. GTT developed a curing pod to molecularly bond its patented chemistry to each fiber in a polymerization process. The large pressure-cooking vessels move the EMPEL monomer chemistry into the fibers where it is then cured using heat to create performance enhancing polymer chains. Once cured, the finish is stable and durable, and EMPEL easily lasts for 50 washes and beyond. "The finish does not appear to come off, and now we are trying to figure out how to test for life of garment," said Martin Flora, GTT's president of Global Business Development.
To demonstrate the treatment's water repellence, EMPEL DWR has been tested in six-hour hurricane rain chamber tests as well as using the Bundesmann Water Repellency Tester to international test standard ISO 9865.
Despite coating the fibers in the chemistry, the treated fabrics are breathable, as well as soft and do not become stiff. EMPEL's base chemistry uses components found in facial creams that act as a softening molecular lubricant to maintain this soft hand.
In addition, the DWR chemistry is compatible with any fabric construction type — woven, knit or nonwoven — and all man-made fibers such as nylon and polyester as well as natural fibers like cotton and wool. This flexibility in application means a broad range of garments from man-made-fiber-based technical garments to knitted hoodies and wool blazers can benefit from the technology.
GTT is focused on making a change in the way textiles are processed globally. "Our technology is a targeted solution that delivers better long-lasting performance to keep clothing working for a much longer period of time," Flora emphasized.
Artilect currently is the largest partner of EMPEL based on the number of styles the brand offers that incorporate the technology. "I chose EMPEL because it is the only DWR solution that outperforms not only C0 DWRs, but also C6 or C8 chemistries," Bush said. "The fact that
it is PFAS-free is of course critical, and it allows us to follow our mission."
---
For more information about EMPEL™, contact Martin Flora, martin.flora@greenthemetek.com; greenthemetek,com.
For more information about Artilect's Darkstart Fusion jacket, visit artilect.studio/us/.
---
May/June 2023