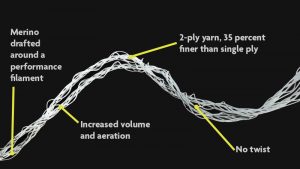 New Zealand-based TMC Ltd.'s twist-free spinning technology allows wool's natural properties to shine through for high-performance applications.
By Rachael S. Davis, Executive Editor
New Zealand has long been associated with wool, so it's not surprising that New Zealand-based company TMC Ltd. is responsible for developing a new twist-free spinning technology for producing performance wool yarns. Dubbed Nuyarn® Merino, the spinning method drafts a superfine merino wool yarn with a high-performance nylon filament carrier yarn. The result is an ultrafine, two-ply yarn with more volume and aeration than merino yarns produced using traditional worsted spun-yarn technologies.
According to Nuyarn Founder Andy Wynne, the technology "unleashes the natural performance of merino wool," and doesn't "twist the life out of the fiber." The idea behind the technology was to create wool products that perform as close as possible to wool in nature. Spun yarn processes compress natural air pockets, introduce tension, create loops and restrict natural fiber movement — all of which reduce the wool fiber's inherent advantages and impart scratchiness to a garment.
Independent testing performed by Intertek® Vietnam and AgResearch, New Zealand, showed compared to a conventional ring-spun 100-percent merino spun yarn, Nuyarn yarns:
Dry five times faster;
Are 85-percent more elastic;
Offer 35-percent more thermal retention as a result of the increase in natural air pockets;
Are 35-percent more air resistant;
Feature a 50-percent increase in tensile strength;
Are 8.8 times more resistant to abrasion; and
Produce 120-percent stronger seams in garments.
These enhanced performance benefits all last for the lifetime of the garment because they are created using a mechanical versus a chemical process.
The company considers itself to be an ingredient brand and it works with all its partners to create unique products —modifying the merino to nylon ratio, weight, and feel, among other parameters, to meet performance criteria — and then controls the supply chain from fiber to end garment on behalf of the brand.
Nuyarn is suitable for a wide variety of applications, however, the light weight and softness of the yarns make them perfect candidates for next-to-skin applications in baselayer garments in particular. Multiple brands have collaborated with Nuyarn to create baselayer products including Artilect, Trew, KUIU, Outdoor Vitals, Odlo, Black Diamond, Wuru Wool, Mosko Moto and Universal Colours.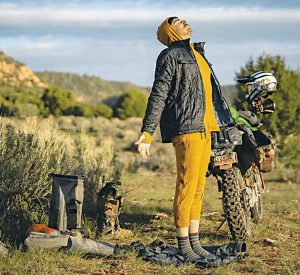 "The problem with most traditional merino wool is you have to use higher weight fabrics to get an acceptable level of durability, and Nuyarn solves that basically by reinventing the way the yarn is created," said Chris Pew, Trew co-founder and CEO. "Nuyarn construction is lighter, stronger, and more durable than anything that we've seen before it's also stretchier, loftier, and has more thermoregulating capabilities."
The ODLO team also noted: "While everyone at ODLO loves pure, natural merino, it does have one fatal flaw; once it reaches peak saturation, it ceases to wick sweat, and the fabric structure retains moisture. This is where Performance Wool powered by Nuyarn stands apart."
According to Wynne, some of the limitations related to wool use in the performance apparel industry were related to how the yarns are spun.
The Nuyarn innovation removes those limitations and gives brands an opportunity to harness the natural attributes of wool along with weight and performance advantages in both winter and summer performance garments.
---
For more information about Nuyarn® Merino, visit nuyarn.com
---
January/February 2022