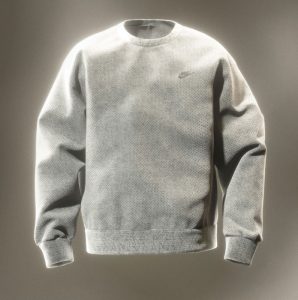 With athlete performance and sustainability in mind, Nike's Forward platform focuses on needlepunching for apparel creation.
By Rachael S. Davis, Executive Editor
Nonwovens are a relatively new textile material compared to woven and knit constructions that are thousands of years old. The nonwovens process allows a wide variety of fabric types with unique properties to be produced depending on production parameters. This adaptability has led to an extensive portfolio of products used in automotive, construction, filtration, and medical applications, to name just a few markets.
There is still lots of potential to unlock in nonwovens production, especially as it relates to apparel and fashion applications. Although applications are broad, the properties of a nonwoven fabric typically do not have the aesthetics or performance characteristics sought in a non-disposable apparel fabric. However, Beaverton, Ore.-based Nike Inc. is looking to change that notion.
The company recently introduced Nike Forward — a platform used to produce a sustainable nonwoven that the company believes can be used in place of traditional fleece fabrics in athletic applications. The motivation behind the platform was to help solve problems for athletes with environmental concerns top-of-mind.
Nike saw the potential of nonwoven manufacturing techniques to reduce the number of steps required to produce a fabric compared to traditional knit or woven fabrics and set about "hacking" a needlepunching machine in a research and development process that took more than five years.
Fewer processing steps — as with all nonwovens, the process goes from fiber directly to fabric — results in less energy consumption, which Nike reports translates into an average of 75-percent reduction in the carbon footprint compared to the traditional knit fleece fabrics it currently uses.
A diverse range of fibers can be incorporated into the layers from pre- and post-consumer waste as well as industrial waste; and the garments feature 70-percent recycled content by weight. No water is used to dye or finish the fabric, and garments initially will be available in only one color — gray. The garments also feature raw cut pockets and no embellishments such as trims, zippers or other closures. These design details result in a garment that is easier to recycle at the end of its useful life.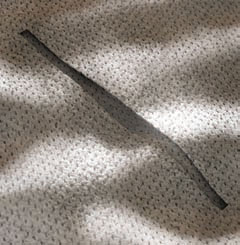 The initial introduction of Nike Forward includes a crew and hoodie style made using 100-percent polyester in a five-layer construction. This lightweight material, which will break in over time, is warm and meets Nike's Therma-FIT ADV technology standards for warmth without the weight.
Nike does admit piling is possible and provides specific care directions to mitigate the issue.
"As part of our commitment to serve athletes by offering more sustainable options and meeting our bold, science-based impact targets, we're introducing a material innovation that can be adapted to different lifestyle and performance purposes," says Seana Hannah, vice president, Sustainable Innovation, Nike.
"We believe this platform has the potential to reset the way we think about material and apparel," said Aaron Heiser, vice president, Global Apparel Product Merchandising, Nike. "This is the biggest Nike apparel innovation since Dri-Fit 30 years ago and has huge potential to transform the industry in the way that Air and Flyknit did for Nike footwear."
According to Nike: "Today Nike Forward shows up as a hoodie — the uniform of sport and a style around the globe. Tomorrow it could be anything."
September/October 2022