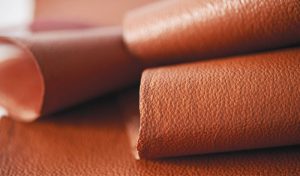 VitroLabs' cell-cultivated leather offers an environmentally- and animal-friendly alternative to traditional leather.
By Rachael S. Davis, Executive Editor
Many man-made leather alternatives can lack the lasting, high-quality found in real leather and aren't necessarily much more environmentally friendly than leather processing — an energy and water intensive processes that consumes many chemicals. There are companies in the marketplace working on plant-based leather alternatives and interest is picking up in such products.
One company new on the scene, VitroLabs, Milpitas, Calif., has entered the arena with a completely different approach. Aiming to design animal farming out of leather production, VitroLabs has engineered a cell-cultivated product that begins with a cow biopsy to harvest just a few cells. Using a specialized bioreactor along with the right nutrients and signals, those few seed cells become an animal hide in just a few weeks. That hide can then move straight to the tanning process, significantly reducing the environmental impact. The process is also much more favorable for animal welfare.
According to the company, those seed cells can be turned into billions of square feet of leather by reproducing the natural conditions required for those skin cells to regenerate indefinitely. The finished material contains a variety of proteins that are needed to produce a durable product with the luxurious finish and complexity of traditional hides.
"At a time when environmental stewardship is more important than ever, biotech companies have the opportunity to lead the way in changing how we produce materials and build supply chains, working hand in hand with existing artisans and craftspeople who are the cornerstone of the $400 billion leather goods industry," said VitroLabs Co-Founder and CEO Ingvar Helgason. "By launching the first production of cultivated leather, we'll hit a major milestone in fulfilling our mission to lead the shift towards a more sustainable future."
Last fall, VitroLabs moved into a new facility designed for pilot production and featuring laboratory space. The company also recently raised $46 million in Series A financing that will help build and scale the pilot production facility. The funding was led by Agronomics, with Bestseller's Invest FWD, Kering, Khosla Ventures, actor Leonardo DiCaprio, New Agrarian and Regeneration.VC also contributing.
"At Regeneration.VC, we view break-through applications of synthetic biology like VitroLabs as crucial to reimagining environmentally degrading materials like conventional leather," said Michael Smith, general partner, Regeneration.VC. "There are near term shifts to enable the scaling of bioreactors along with improvements in growth media that point to the possibility of scaled production and significant margin potential in SynBio. We see a multi-billion-dollar opportunity to displace traditional leather supply chains. With a mission-aligned ecosystem of brands, manufacturers, and consumers, VitroLabs will leverage proprietary technology to unlock a next-generation material."
"There has been an explosion of companies that are developing alternative materials to leather," Helgason noted. "However at VitroLabs, our cultivated animal leather preserves the biological characteristics that the industry, craftsmen, and consumers know and love about leather, while eliminating the most environmentally and ethically detrimental aspects of the conventional leather manufacturing process associated with its sourcing."
---
For more information about VitroLabs alternative leather material, contact Ingvar Helgason, hello@vitrolabsinc.com; VitroLabsInc.com.
For more information on potential investment, contact info@regeneration.vc; regeneration.vc.
---
May/June 2022