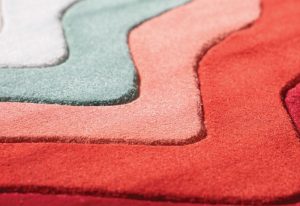 To celebrate the 10th anniversary of its ECONYL® nylon, Aquafil partnered with Delos to create the Technicolor Collection of rugs.
By Rachael S. Davis, Executive Editor
ECONYL® regenerated nylon fiber recently celebrated its 10th anniversary. For more than 57 years, Italy-based Aquafil S.p.A. has specialized in nylon 6 production, but the company's desire to produce more sustainable products led to research and development efforts that culminated in the introduction of ECONYL nylon a decade ago. The polymer is manufactured using a closed-loop nylon regeneration process to repurpose nylon waste such as old carpet and fishing nets. According to the company, the process creates a nylon that offers the same properties as a virgin, fossil fuels-based product. ECONYL also can be recycled and reimagined over-and-over again.
For every 10,000 tons of ECONYL raw material, Aquafil is able to save 70,000 barrels of crude oil and avoid 65,100 tons of carbon dioxide equivalent emissions. Aquafil also has decreased total greenhouse gas emissions by 58 percent compared to 2016.
More than 2,000 brands — including Gucci, Prada, adidas, Speedo, Interface, BMW and Mercedes Benz — specify ECONYL nylon for a host of fashion, interior and automotive products.
To celebrate the ECONYL's 10th anniversary, Calhoun, Ga.-based Delos Inc. recently introduced the Technicolor Collection — a line of trend-forward tufted and hand-carved rugs featuring 16 designs. The Technicolor name was inspired by the vivid, high-saturation color of Technicolor film and television, and 1950s pop art. Color combinations are almost endless with more than 177 ECONYL colors to choose from, and the fiber is solution-dyed to ensure long-lasting color and commercially rated stain-free properties. The fiber also is bleach and wear resistant. Delos is a family-owned business established in 2005. Its rugs are made in America using state-of-the-art robotic tufting technology, and then hand finished by local craftspeople.
"Sustainability drives our processes at Delos," said Ivan Phillips, co-owner. "We are committed to doing our absolute best to serve our clients and our planet. It's the best of both worlds."
The Delos Technicolor Collection debuted at NeoCon late last year. "We [were] excited to feature the latest designs made with ECONYL at NeoCon in Chicago …" noted Giulio Bonazzi, chairman and CEO, Aquafil Group. "We're so proud that we have been able to move the industry toward more sustainable practices over the last decade, while continuing to work with our partners to make beautiful products."
---
For more information about ECONYL®, visit econyl.com. For more information about Delos and the Technicolor Collection, visit thedeloscompany.com.
---
January/February 2022