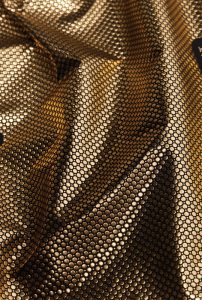 Columbia Sportswear's new Omni-Heat™ Infinity advanced thermal-reflective technology is the "Gold Standard in Warmth."
By Rachael S. Davis, Executive Editor
Gold Beats Cold" is the marketing slogan for Portland, Ore.-based Columbia Sportswear's latest addition to its Omni-Heat™ product line. Omni-Heat Infinity is an extension of the company's successful patented Omni-Heat Reflective product, which features small, silver, aluminum dots  on the surface of the fabric to provide reflected radiant heat to the wearer.
The new Omni-Heat Infinity takes that concept to the next level by significantly increasing the amount of aluminum metal on the surface and differentiating the fabric from its predecessor with an eye-catching gold color.
"Most consumers are familiar with the NASA space blankets and emergency thermal blankets," said Dr. Haskell Beckham, senior director, Innovation. "Columbia just figured out how to apply the same technology in a pattern that still allows the fabric to breathe." Omni-Heat Reflective features approximately 30-percent aluminum metal on the surface of the fabric. The relationship between heat reflection and surface coverage is quite linear — more metal on the fabric equates to more reflected heat. However, too much metal on the surface and the breathability, and therefore comfort, is impacted. "We knew we could increase the surface coverage of the metal, but the question was by how much before the fabric is no longer breathable," Beckham said.
After researching variables and plotting moisture vapor transfer rate (MVTR) as a function of surface coverage, the answer to the question was, "that we can actually go pretty high, and don't see much of a drop in breathability until 65-percent-plus surface coverage, at which point the MVTR really plummets," Beckham noted.
Omni-Heat Infinity products feature a pattern of small and larger dots with between 50 and 60 percent aluminum coverage — doubling the foil coverage compared to the Omni-Heat Reflective technology.
Then the question became how to differentiate the fabric at the consumer level. "If you look at the products from a distance, it would be very difficult for a consumer to detect that there is a difference in the surface coverage of the metal, even though the printed pattern is different," Beckham said. "We came up with the idea of making the foil gold, and were able to place a colored pigment in the protective transparent coating over the aluminum layer without reducing the reflectivity of the aluminum foil.
"The nice thing about the technology is that it is very visible," Haskell added. "It's not some invisible ingredient hidden within the garment that we have to try convince people is effective. It's also conveniently a surface-applied technology that we can apply to different base materials, which is helpful in creating a variety of different products."
"The inaugural collection for Infinity features 80 pieces across the new winter collection making it one of the largest launches ever for the company," said Andy Nordhoff, senior manager, public relations. "Primarily it's featured in jackets, but also hats, gloves and boots — in both adult and kid's styles. With our Omni-Heat platform, we are really focused on building the most versatile collection we can. People might wear our products to walk their dogs, while others may be at the top of a mountain where it is 10 degrees below zero. The more options we can provide to people so they can stay outdoors longer, the better!"
---
For more information about Columbia Sportswear's Omni-Heat™ Infinity, please visit columbia.com/gold
---
November/December 2021