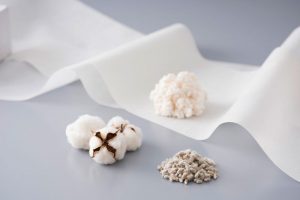 Asahi Kasei's Bemliese™ brings a sustainable nonwoven option to the United States.
By Rachael S. Davis, Executive Editor
Bemliese™ — "Bem" from the original cupro rayon fiber named Bemberg, "li" inspired by the smoothness of a lily flower, and "se" from the Japanese word for gauze — is a continuous filament cellulosic nonwoven fabric recently launched in the United States by Japan-based Asahi Kasei. The nonwoven features 100-percent cotton linter — the tiny hair-like fibers found on cotton seeds that are typically wasted — which is turned into a highly-pure, high-quality, continuous filament spunbond nonwoven using a proprietary production process.
According to Chad Provonsha, director of sales and marketing for Asahi Kasei Advance America Inc., there are two things that make Bemliese stand out in the crowd. The first is its continuous filament spunbond nature. "This means no staple fibers are used, attributing remarkable levels of purity," Provonsha said. The second is the 100-percent cotton linter raw material input. "This means no trees are sacrificed for wood pulp and no plastics are used," Provonsha added. "Asahi Kasei is creating one of the most premium, fully biodegradable fabrics from a raw material that would otherwise be wasted."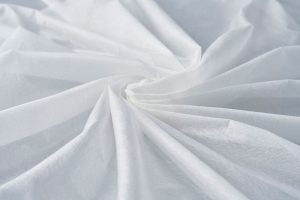 The fabric has been certified by TÜV Austria Belgium NV for industrial compost, home compost, soil biodegradability and marine biodegradability. In addition, Provonsha reports approximately 40 percent of the energy powering Bemliese factories comes from biomass or hydroelectricity and the facilities are 99.8-percent emissions-free.
According to the company, the dry Bemliese nonwoven is ideal for cleaning equipment in contamination-free environments because it leaves virtually no lint, scratches or chemicals on the surfaces it touches. The dry product also exhibits a higher rate of absorbency compared to cotton gauze, rayon/polyester blends or cotton nonwovens. When wet, Bemliese is soft, drapes well and exhibits little to no abrasion. These qualities, plus its moisture absorption ability, make it suitable for hygienic or sterile medical applications.
In Asia, the nonwoven also has proven popular for sustainable cosmetic facial masks. The product's ability to stick to every contour of the face and stay in place allows for even application of beauty formulas.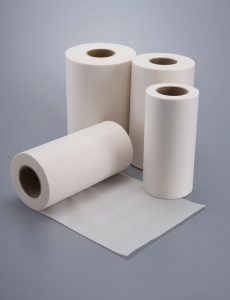 Purity is a key concept for Bemliese and the company prefers to supply the nonwoven only in white to preserve this purity. However, color may be imparted to the nonwoven depending on the end-use application. Bemliese is available in weights ranging from 13.5 grams per square meter (gsm) to 135 gsm, and is sold as roll goods that can be customized in width and length.
"In the past, cotton linter had been used to create a woven material that resembles silk, and Asahi Kasei was interested in a way to bring these qualities to the nonwoven industry," Provonsha said. "Bemliese has evolved well beyond its initial purpose as a medical gauze.
We are expecting a new chapter of creative uses for the material to unfold in North America."
---
For more  information  about Bemliese™, contact info@ ak-advance.com;
asahi-kasei.co.jp/bemliese/en/
---
September/October 2021