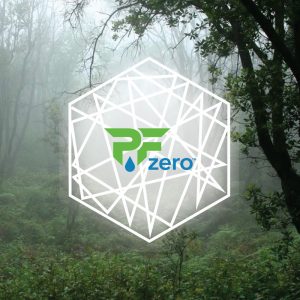 Burlington's PF Zero™, a fluorocarbon-free, water-based repellent finish, is high-performance and eco-friendly.
By Rachael S. Davis, Executive Editor
With environmental consciousness and sustainability in mind, Greensboro, N.C.-based Burlington Performance Fabrics has launched PF Zero™, a non-fluorocarbon-based repellent finish for high-performance apparel fabrics. The eco-friendly, water-based technology is durable, breathable, comfortable and odorless, according to Burlington.
The technology is being launched across multiple business and has been introduced to numerous brands. The finish is suitable for any application where water repellent protection is required including outerwear, rainwear, snow sports, and golf, among other applications. The technology also is available for use on personal protective equipment fabrics and flame-resistant materials such as fire turnout gear. In addition, PF Zero is in development for use in uniform and military fabrics.
Burlington reports the finish may be applied across both man-made and natural fabric substrates. PF Zero also is compatible with other Burlington technologies such as antimicrobial, insect-repellent and moisture control chemistries to produce a fabric that confers multiple benefits.
"The PF Zero technology, combined with Burlington fabric innovations, creates the ultimate in performance and comfort for active lifestyles," said Nelson Bebo, vice president, Performance Fabrics.
"PF Zero offers the next level of sustainable performance to Burlington's advanced fabric technologies with a PFAS [perfluorooctanoic acid]-free finish offering superior repellency that can be combined with other Burlington Labs technologies — whether it be a moisture activated cooling sensation, a smart technology that adapts to your environment hot or cold, basic wicking or UV protection. Life can be unpredictable. Burlington's PF Zero fabrics give you the comfort and confidence to take it all in stride."
According to the company, PF Zero out-performs the industry standard rating of 90 even after 50 launderings when evaluated using the American Association of Textile Chemists and Colorists (AATCC) Test Method 22 Water Repellency: Spray Test on both 100-percent polyester and 100-percent nylon substrates.
PF Zero is a perfect complement to Burlington's Micromove™ 365 fabric collection. The fiber technology paired with the finish offer sustainable comfort, stretch and durability in a soft, drapable fabric in two- and four-way stretch for a maximum range of motion.
"Sustainability is at the forefront of all Burlington developments, with a commitment to responsible chemistries, recycled content and manufacturing processes that minimize environmental impact," Bebo added. "PF Zero technology opens new opportunities across Burlington's platform of performance technologies, allowing us to lead in the development of sustainable, easy-care and super comfortable fabrics that protect and perform throughout the day."
---
For more information about Burlington Performance Fabrics' PF Zero™, please visit burlingtonfabrics.com.
---
March/April 2021