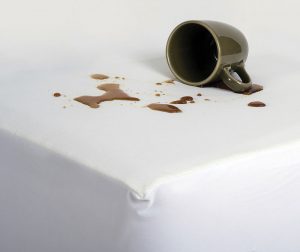 Seam Seal International has launched a new line of non-PVC  mattress protectors for the mass market.
By Rachael S. Davis, Executive Editor
A mattress cover or mattress protector offers a last line of defense against spills, dirt and allergens; and can also reduce abrasion on the mattress — all of which may help extend the mattress's lifetime.
Polyvinyl chloride (PVC) is the moisture barrier of choice in many covers, especially products sold at a lower price point through mass retailers. However, PVC has a strong odor; and exposure to PVC may have adverse health effects, according to the National Institutes of Health.
Enter Guntersville, Ala.-based Seam Seal International, which recently expanded its ProtectEase brand with NexGen™ mattress protectors. Seam Seal opened in 1996 offering seam sealing technologies for waterproofing fabrics. The company branched off into film-laminated fabrics in 2006; and in 2013, added finished waterproof bedding products to its offerings.
Seam Seal's new fabric technology is aimed at replacing outdated PVC bedding products sold at big box retailers. The patented, environmentally conscious NexGen mattress protectors offer a full range of hypoallergenic protection against dust mites, allergens, stains and spills, and also are odor-free.
"You know when you open the package of a cheap shower curtain, the room smells for a day or so," said Chris Wright, CEO "We are the anti-PVC company and only use poly films considered ecofriendly. We are offering the 'NextGeneration' of fabrics, hence the product's name."
NexGen's fabric composition is proprietary, but Wright reports that the process used to produce the nonwoven fabric lends a supple hand and superior strength not typically found in other nonwovens or PVC products. "Technically, we call it a polyolefin trilaminate, and we use the same fabric for the bottom and sidewalls of the basic mattress protectors.
The supple hand of the lightweight material also removes any noise and discomfort associated with PVC-based products. "This combination of better health and protection with a quieter, softer material positions NexGen as an obvious disrupter in a category filled with me-too products," Wright noted.
The fabric has passed ASTM fabric barrier/penetration tests D2776, D3786 and D1683; and has also been subjected to third-party lab tests in order to support the claims it protects from "bed bugs, dust-mites and pet dander." NexGen fabrics also are compliant with California's Prop 65 toxic content legislation.
According to Wright, NexGen mattress protectors can be machine washed with warm water and air-fluff tumble dried, although cleaning with a damp cloth is the recommended method of washing to prevent over drying in the machine, which may damage the film over time.
NexGen mattress protectors currently are available at major retail stores as well as online.
"Our background is in engineered specialty fabrics with an emphasis on multi-layer nonwovens,"Wright said. "Those fabrics are used in everything from landfill linings to emergency hazmat suits. We say around here, 'if we can protect a fireman from hydrofluoric acid, we can certainly protect your mattress from a Kool-Aid spill!'"
---
For more  information about NexGen™ mattress protectors contact  Chris Wright,  866-615-4179; info@seam-seal.com; protect-ease.com
---
March/April 2020