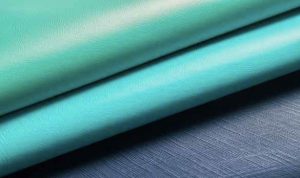 In a first for the company, Glen Raven has added Horizon — a durable, man-made
leather fabric — to its Sunbrella® portfolio.
By Rachael S. Davis, Executive Editor
Sunbrella® fabrics have a reputation second to none for upholstery, shade and marine applications. Very protective of Sunbrella's image and perception, manufacturer Glen Raven Inc., Glen Raven, N.C., won't brand any old fabric with the Sunbrella name. Only fabrics of the highest caliber and quality are named Sunbrella; and until recently, the portfolio consisted solely of woven acrylic fabrics. But Glen Raven has expanded the Sunbrella portfolio with the addition of Horizon, an engineered, man-made, leather fabric that offers optimal performance when it comes to marine upholstery applications.
"Sunbrella identified a need for a soft, longer-lasting upholstery for the marine market, and we felt it essential to carry the brand's technical expertise through this new product line," said Bill McDaniel, marine market manager for Sunbrella. "We invested in extensive research and developed a solution that extends the brand's legendary performance into a new line. We're thrilled to take a bold step in bringing a new product to the marine market that's backed by the Sunbrella brand promise."
Horizon is a four-way stretch fabric that features a soft hand for comfort on the water. The product also is designed to resist cold cracking and fading. According to the company, it also exhibits excellent recovery when subjected to excess stretching, which can prevent puddling and prolong the lifetime of the fabric. Horizon also is waterproof and bleach cleanable to deal with common marine stains such as mold, mildew and salt residue.
According to the company, Sunbrellais the first and only brand in the marine industry to offer a three-year warranty against bacterial staining commonly known as "pinking" — a phenomenon caused by harmless bacteria that live in rivers, lakes and streams. If the bacteria seep into a vinyl fabric such as those traditionally used in marine applications, a pink colored digestive by-product produced by the bacteria may stain the vinyl fabric. Additionally, Horizon carries a five-year product warranty against the loss of strength and color that may be expected from normal exposure to sun and water elements.
The 54-inch-wide Horizon fabric is offered in two unique, embossed patterns — Textil and Capriccio — and 30 different colors made using the same pigments used to produce woven Sunbrella fabrics, ensuring a color match for complete boat customization.
"We only put our brand on products that we think are worthy of the Sunbrella name," said Bret Kelley, vice president, sales, Trivantage — Glen Raven's distribution company. "The products have to be unique, different and solve a problem. Horizon is the first non-acrylic product to carry the Sunbrella name. And for me, that makes me wonder what's next?"
For more information about Horizon and Sunbrella® visit sunbrella.com/horizon.
January/February 2020