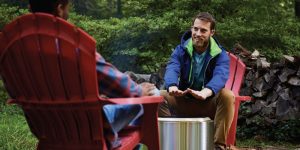 CS2 — CORDURA® + Susterra® + Sorona® — combines durability, sustainability and wearability.
By Rachael S. Davis, Executive Editor
CS2 — short for CORDURA® + Susterra® + Sorona® — fuses three well-known brands into one multilayer fabric "where durability, sustainability and wearability interconnect." Wichita, Kan.-based INVISTA, Loudon, Tenn.-based DuPont Tate & Lyle Bio Products, and Wilmington, Del.-based DuPont Biomaterials recently collaborated with mill partner Everest Textile Co. Ltd., Taiwan, to develop this laminated fabric.
The mission was to create a three-layer solution that begins with a durable fabric foundation and also incorporates plant-based eco-efficient technologies. CS2's outer layer is CORDURA Naturalle™ — a fabric that contributes long-lasting performance and durability to the final product. The middle layer is a waterproof, breathable plant-based membrane made using DuPont Tate & Lyle's Susterra propanediol, a 100-percent bio-based building block, which offers low-temperature flex and elasticity when laminated to stretch fabrics for mobility in the final laminate. The third, inner layer, is a lightweight DuPont Sorona-fiber-based fleece — made using 37-percent plant-based ingredients — which contributes next-to-skin softness and warmth as well as ease of movement in the final fabric.
"A key driver for Invista's CORDURA brand fabric is in providing solutions that are durable and long-lasting in order to help minimize waste and reduce water and energy consumption," said Cindy McNaull, CORDURA brand business development director. "We believe in responsible manufacturing to use resources effectively and ultimately that 'Sustainability Begins With Products That Last™'. With this in mind, we once again collaborated with the talented teams at DuPont Biomaterials and DuPont Tate & Lyle Bio Products to help define the next generation of durable, eco-efficient solutions of tomorrow with the development of CS2 technology. The net result is a future where durability, sustainability, and wearability interconnect."
The CORDURA Naturalle fabric featured in the CS2 laminate is a 370 gram per square meter woven construction based on 100-percent CORDURA qualifying nylon 6,6 fiber. These yarns provide a natural, cotton-like appearance and feel with durable, long-lasting performance. The Everest CS2 fabric is suitable for jackets and pants and was "specifically designed to keep you warm and dry during your fall and winter adventures," McNaull said.
Everest was the first mill engaged to work on this new combination CS2 product, but Chia Her Industrial Co. Ltd., Taiwan — another authorized CORDURA fabric mill — also recently launched two easy-care CORDURA + Sorona fabrics at the Summer Outdoor Retailer show held in Denver.
The soft hand from the Sorona fibers tied to the durability of CORDURA Naturalle makes these fabrics the perfect solution for outerwear, lifestyle and endurance sport applications according to McNaull. "Ready to wear designers will also love the lightweight feel and smooth clean look since eco-efficient CORDURA + Sorona fabrics offer both stylish elegance and an easy pack and go functionality," McNaull said. "We like to refer to both the technologies as 'Performance Proof' since they give comfort, ease of movement and multi-faceted design options while helping you live more sustainably every day."
The collaboration fabrics have not yet hit the commercial market, but there is more to come in the near future!
---
For more information about CORDURA® + Susterra® + Sorona® CS2 fabric technology, contact Cindy McNaull, +704-408-7838; cindy.d.mcnaull@ invista.com; CORDURA.com.
---
September/October 2019