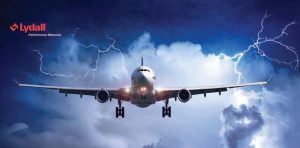 Lydall Performance Materials' TechniMat is suitable for high-conductivity substrate applications, among other applications.
By Rachael S. Davis, Executive Editor
Imagine a nonwoven fabric lighter than a piece of paper that can help protect a composite airplane wing from a lightning strike. Sounds incredible maybe, but such products exist and Rochester, N.H.-based Lydall Performance Materials Inc. specializes in such nonwoven veils as well as filtration and insulation technical nonwoven, membrane and composite products.
Nonwoven veils are used in composites manufacturing to improve surface aesthetics and impart properties to the finished product. Lydall's TechniMat nonwoven veil helps to conduct the approximately 1 billion joules of energy generated by a lightning strike over the skin of the aircraft acting like a faraday cage to protect the plane's occupants and sensitive electronic equipment contained inside. The veil is designed to impart a resin-rich surface that creates a smooth, paintable finish that masks the weave pattern of the underlaying carbon fiber that makes up the structural components used in the wings and fuselage of a plane. According to the company, TechniMat also offers excellent electromagnetic interference (EFI)/radio frequency interference (RFI) shielding when incorporated into advanced composites.
TechniMat is a PAN or pitch-based carbon fiber nonwoven currently offered in versions ranging from 8.5 grams per square meter (gsm) up to 102 gsm. The company also is launching versions of TechniMat made using other fiber types including glass, polyester and aramids.
Each veil Lydall makes is customizable depending on the customer's requirements. Specialty fillers, sizing or binder components that are compatible with epoxy resins all are available.
"For example, one customer may be looking for something that is lightweight and strong, whereas a different customer may be looking for a product that offers lightning strike diffusion," said Michael O'Laughlin, vice president, Advanced Solutions, Lydall Performance Materials. "Customers can also specify the type of carbon fiber used to make the nonwoven veil depending on the desired end product properties."
According to Lydall, TechniMat has excellent random fiber dispersion, uniformity and strength that ensure the veil is easy to process in pre-preg operations.
TechniMat is made using a controlled porosity process. "We have the ability to control porosity and other specifications during production through the use of online controls," O'Laughlin said. "This ensures the porosity of the product is consistent. Controlled porosity can have various benefits depending on the application and can be used as an indication of uniformity of the sheet, or to predict the flow of air or liquid."
"Lydall has invested in capabilities that allow us to produce materials with weights ranging from 6 gsm up to 2,500 gsm across the global network of production assets," O'Laughlin added. "Lydall Performance Materials' Advanced Solutions business unit offers small batch, superior quality and flexible manufacturing options. TechniMat is a great example of the company's capabilities!"
May/June 2019