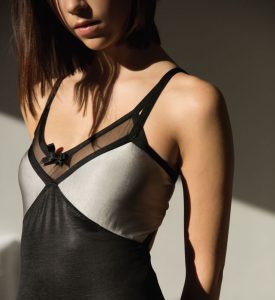 Eastman Naia™ offers inherent performance benefits demanded in today's apparel and textile marketplace, as well as new design possibilities.
By Janet Bealer Rodie, Contributing Editor
At Kingsport, Tenn.-based Eastman Chemical Company, technological developments in cellulose acetate production are giving the fiber a new chance to shine. Branded Naia™, the new and improved cellulosic fiber offers several advantages over the original fiber including machine washability, improved dimensional stability, stain release and wrinkle recovery. It also has a silky hand, natural luster and soft drape; wicks moisture; dries quickly; is breathable; does not pill; and is hypoallergenic. All of these characteristics are inherent to the fiber. In addition, it is thermoplastic and can be heat-treated to provide various effects.
Tennessee Eastman — founded in 1920 to provide parent company Eastman Kodak with domestically produced acetone, methanol and other chemicals to use in its photographic processes — began producing cellulose acetate yarn in 1928, and the yarn was the company's leading product by 1940. A solution-dyed version was introduced in 1952, but the fiber's use for textile applications was soon eclipsed by its use for filter tow, which became Eastman's major product by 1960. The company also added other man-made fiber production and became more involved in industrial chemicals and plastics production.
Tennessee Eastman spun off from Eastman Kodak in 1994 and became Eastman Chemical. It is today a global company with four business segments — Additives & Functional Products; Advanced Materials; Chemical Intermediates; and Fibers — and sales and/or manufacturing sites on six continents.
Naia is derived from pine or eucalyptus pulp sourced from sustainably managed forests mostly in the Americas. The fiber is produced in Kingsport in a nearly closed-loop process in which all solvents and waste are recycled, reused or offered for resale. The fiber has earned USDA Certified Biobased Product and Oeko-Tex Standard 100 certifications.
According to Jeroen Jacobs, Eastman's sales director textile fibers, performance issues that previously had plagued acetate yarn have been addressed in Naia. For example, articles produced with acetate yarn had to be dry cleaned, as the fiber lost its dimensional stability when wet. It also exhibited poor abrasion resistance.
"In the last two or more years we've done a lot of work on the manufacturing technology side as well as with our mill partners to improve processes and dyeing procedures," Jacobs said. "We arrived at a product that you can make a garment out of which you can actually throw into a washing machine and not have to worry about colorfastness or dimensional stability. We've also found out that with Naia, you get very good soil release," he added, noting the fiber's top ratings in soil release tests involving makeup, coffee, red wine, cooking oil and dirt.
Naia's thermoplastic property clearly differentiates it from other cellulosic fibers. "You could treat a Naia fabric to give it a leather-like look. It has a different type of polymer backbone than other cellulosic materials," Jacobs explained. Other possibilities might be to press permanent pleats into the fabric, or to mold it into various shapes. "That's something we're kind of exploring right now. There's clearly an opportunity there because of the thermoplastic function of the material," Jacobs said.
Eastman introduced Naia first into the intimates market, but other potential markets include women's ready-to-wear, home textiles, accessories and technical textiles. Jacobs mentioned some products have been introduced at retail, including a yoga line from fast-fashion brand Zara, and a boutique line of women's sports/lounge wear from New York City-based Only Hearts.
He added that Eastman is building up its mill network and working with several brands to bring new lines to market in Spring/Summer 2018 and Autumn/Winter 2018-19.
---
For more information about Eastman Naia™, contact naiateam@ eastman.com; naia.eastman.com. 
---
November/December 2017