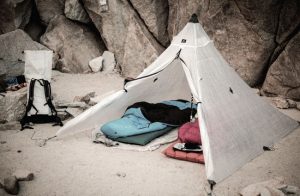 Dyneema® composite fabrics are featured in super-lightweight outdoor gear such as backpacks and tents, and are being promoted for apparel applications as well.
By Janet Bealer Rodie, Contributing Editor
Dyneema® composite fabrics, made with ultra-high-molecular-weight polyethylene (UHMWPE) fiber, have been used in applications such as the ultra-lightweight, ultra-strong sails that helped America³ win the 1992 America's Cup. Over the years, applications have expanded beyond sailcloth to include airships, medical applications, flexible circuitry, hiking gear and now also apparel. The fabrics are manufactured at DSM Dyneema's Mesa, Ariz., facility, which the Netherlands-based company acquired as part of its 2015 buyout of Cubic Tech Corp., whose product portfolio of ultra-lightweight laminates is the basis for the Dyneema Composite Fabrics segment.
The Dyneema composites range includes nonbreathable and breathable fabrics of varying weight classes and laydowns, noted segment Director Noud Steffens. "There are five or six different films, and different performance/durability ratios and weight classes so we can combine, in the end, probably hundreds of possibilities," he said.
Nonbreathable fabrics may have a thermoplastic polyurethane or other nonbreathable plastic coating. Breathable fabrics may feature an expanded polytetrafluoroethylene membrane. Composites with 0/90 laydowns offer some diagonal stretch, while those with 0/90/45/135 laydowns are suitable for applications that require more stability.
Through The Dyneema® Project, the company works with brands and designers to develop and market apparel, outdoor gear and other articles using Dyneema composite fabrics "If you have a cool idea, we are prepared to customize and help you out for that specific project," Steffens explained.
In one project, the company worked with Vancouver-based outdoor fashion designer Conroy Nachtigall to develop fabric for a paper-thin, ultra-lightweight, waterproof, breathable Alpine jacket. Several skiers, snowboarders and other winter sports enthusiasts in Squamish, British Columbia, tried out the jacket and raved about its performance.
Describing his interest in using the Dyneema composite in the jacket, Nachtigall explained: "Beyond the technical characteristics of the fabric — the light weight for its strength — I like that it is essentially an engineered product that is created with an artisanal-like process. The final fabric visual retains some of that process and it becomes part of the aesthetic."
Hyperlite Mountain Gear, Biddeford, Maine, has been using Dyneema composites in its backpacks, tents and shelters for several years. "Our reason for using Dyneema is its strength and light weight," said Mike St. Pierre, CEO, Hyperlite. "Really lightweight nonwoven composites work for tents because there's no way for water to penetrate, and the PE fiber doesn't absorb moisture. This is a huge advantage. Under tension, a lot of woven fabrics, even if they have DWR finishes on them, can stretch and become saturated with water. For our tents, we're using Dyneema fiber sandwiched between Mylar sheets. For backpacks, we can use the same kind of material laminate with polyester and Dyneema."
Hyperlite now is working with Dyneema to develop a jacket using a Dyneema composite. "We are still refining the fabric and material choices in order to optimize performance," St. Pierre said. "It will be one of the lightest jackets on the market."
Italy-based menswear brand Stone Island is also working with Dyneema and recently launched a limited-edition series of reversible garment-dyed jackets featuring a flexible Dyneema composite on one side and an ultralight, dyeable nylon fabric on the other.
---
For more information about Dyneema® Composite Fabrics, contact thedyneema project.com using the form "Work with us."
---
May/June 2017