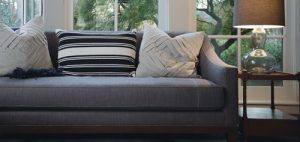 Breathe by Milliken™ performance upholstery fabrics are available in cotton or recycled polyester and feature an exclusive plant-based fluorine-free stain repellent.
By Janet Bealer Rodie, Contributing Editor
Milliken & Company, Spartanburg, S.C., has long been recognized for its environmental and ethical standards. In keeping with those standards, the company has introduced the Breathe by Milliken™ performance upholstery fabric collection, reported to be the textile industry's first and only fluorine-free performance collection that includes both natural- and man-made-fiber fabrics.
"Breathe by Milliken is a collection of eco-elegant performance upholstery fabrics that are durable, repel stains, and clean easily without compromising the fabric's look or soft feel," said David Smith, Milliken's vice president, Engineered Performance Products, noting that the collection is responsibly manufactured and reflects the company's core values concerning environmental sustainability, innovations that do good and improve people's lives, and health and safety. "It is designed with a person,
a family, and a specific end-use in mind. Today's consumers are better informed and more concerned than ever before about who makes a product, what it's made of and how it's made. Every aspect of this product from fiber to finish was designed to address this concern," he added.
The collection includes cotton fabrics and recycled polyester fabrics. The stain repellent is plant-based, derived from sustainably harvested palm. The fabrics emit no volatile organic compounds and have no added formaldehyde, and have received GREENGUARD® GOLD certification for use in indoor environments.
All fabrics are manufactured at Milliken facilities in South Carolina and Georgia.
"Breathe by Milliken fabrics are really engineered textiles, and we've looked at them from a fiber-forward basis, looking at every aspect from fibers, to yarns, to the manufacturing process and final touches," said Emily Michaels, research manager, Engineered Performance Fabrics. "All of these are specifically chosen to create sustainable, effective and long-lasting performance."
The fabrics are immersed in the company's proprietary solution to provide repellency, and fabric construction will also affect the degree of surface repellency. For example, a water-based liquid will ball up on the surface of a tightly woven twill fabric, while it may penetrate a looser plain-woven fabric. In either case, the liquid and any stain are easily removed by following Milliken's cleaning instructions. The company also provides instructions for cleaning up oil-based stains, which may be more difficult to remove. The fabrics also are machine-washable.
Milliken sells Breathe by Milliken fabrics to furniture manufacturers and to retailers that specify fabric. According to LeAnne Flack, business development manager, Engineered Performance Fabrics, two cotton constructions — Performance Twill and Performance Slub Cotton — are available in several colors as selections for the upholstered furniture collections of home furnishings retailer Pottery Barn, which also offers the fabrics for sale by the yard. For Spring 2017, Pottery Barn is featuring Performance Twill on PB Air sofas on display in its stores.
Other Breathe fabrics featuring both other natural fibers and recycled polyester are in development. Milliken also is exploring other commercial and residential interiors markets and end-uses for the fabrics.
March/April 2017