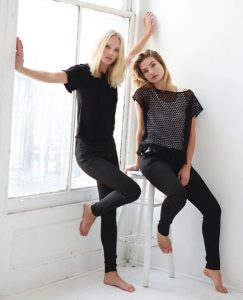 Spun-dyed Lenzing Modal® BLACK fiber offers a sustainable solution for permanently black jeans and other apparel.
By Janet Bealer Rodie, Contributing Editor
Austria-based Lenzing AG developed modal fiber in the 1960s as a regenerated cellulosic fiber that offers improved tenacity. The raw material for Lenzing Modal® comes from sustainably managed beech wood forests in Europe certified by the Geneva-based Programme for the Endorsement of Forest Certification. The fiber is produced at Lenzing's integrated pulp/fiber complex in Austria using on-site-produced biomass process energy and chlorine-free cellulose. Ninety-five percent of process chemical byproducts from modal production are recovered for reuse.
Lenzing Modal Color, one group within the Lenzing Modal product line, offers some 10 colors of spun-dyed — or solution-dyed — fiber, in which pigment is added to the dope prior to extrusion, to produce a fiber with completely integrated color that does not wear off or wash off. Primary among those colors is Lenzing Modal BLACK, and Lenzing worked with supply chain partners to develop fabrics featuring the black fiber, first to address consumer demand for permanently black jeans, and now also for other wovens and knits for the wider apparel market. The company launched its Future Black — Today, Tomorrow, Forever Denim Capsule Collection at Kingpins Amsterdam in October 2016, and is showing an expanded range of fabrics at Première Vision in Paris in February 2017. Because of increased consumer interest in sustainability, Lenzing is emphasizing Modal Black's environmental benefits.
"We got a great response to the collection at Kingpins," said Tricia Carey, director of global business development, Lenzing. "We have been making this fiber for several years, but we didn't highlight so much the sustainability aspect earlier, and consumers now are really looking for information about sustainability."
Lenzing reports that using Lenzing Modal Black in fabrics lowers the environmental impacts of production by 50 to 65 percent. In addition to sustainability-related factors noted above, spun-dyed Modal Black fiber uses only 20 percent of the pigment required in conventional dyeing. Furthermore, production of fabric containing the fiber requires half the energy and water needed for conventional fabric production and has a 50-percent lower carbon footprint. Water effluent also is reduced.
The company reports production cost savings range from 20 percent for electricity and 62 percent for heat, to 64 percent each for water usage and treated wastewater, and 90 percent for chemical usage.
Fabrics include 100-percent Modal Black as well as blends with cotton or polyester. "Even in denim there are some interesting possibilities with solution-dyed black polyester because you don't have to dye the fabric at all," Carey said. "Another possibility is using the fiber in heathers," she added.
"And you can bring this into 'see now, buy now' instant fashion. When you can condense the steps of the supply chain, it helps efficiency from the time standpoint."
Lenzing Modal Black is currently featured in Gardena, Calif.-based Level 99's forever black and white denim collection, and Canada-based Dish and DU/ER's Never Fade women's pant style.
---
For more information about Lenzing Modal® BLACK, contact Tricia Carey +212.944.7896; t.carey@lenzing.com.
---
January/February 2017