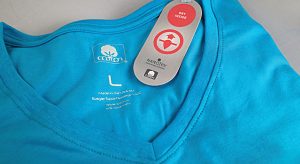 Nanotex and Cotton Incorporated have teamed to launch Nanotex® DRY INSIDE moisture-management technology for cotton knit apparel.
By Janet Bealer Rodie, Contributing Editor
Nanotex® DRY INSIDE nanotechnology, developed by Bloomfield Hills, Mich.-based Nanotex, a Crypton company, has been available to confer moisture management in active and athleisure apparel for a few years. First used in polyester performance apparel, the treatment now is actively marketed for use in cotton knit apparel, following a successful collaboration between Nanotex and Cary, N.C.-based Cotton Incorporated. Cotton treated with Dry Inside performs as a very effective moisture-management fabric — far surpassing both polyester and untreated cotton in its wicking performance during testing — while retaining all the desired traits of cotton, including its comfort and breathability, according to Nanotex.
"Dry Inside is a performance chemistry that works really well with cotton and polyester," said Bart Kennedy, vice president of sales, Nanotex. "The patented one-way moisture-management system moves moisture away from the skin and channels it through the fabric to spread out and dry on the outside of the fabric. On the inside, the skin and fabric become completely dry. There has to be some contact between the shirt and the skin for it to work, but it's like a traditional moisture-management system on the outside." He also noted that the technology reduces chafing, with cling force reduced by up to 80 percent compared to that of polyester and untreated cotton.
Dry Inside is applied to the fabric in a conventional bath. "The fabric goes into the dye range, and the magic happens during heat-setting. The treatment bonds at the fiber level," Kennedy said, describing the nanoparticles as "whiskers" that attach to the fiber to form a durable bond that in testing has been found to withstand 30 home launderings.
Cotton Incorporated assisted Nanotex in testing Dry Inside's performance on cotton, with an eye to growing cotton's market share in the active and athleisure segment.
"Activewear is a category where synthetic fibers have historically had a majority share," said William Kimbrell, senior director, Cotton Incorporated Supply Chain Marketing Asia. "However, our research shows consumers are interested in cotton as an ingredient in all their apparel, including activewear. This is an opportunity for cotton as well as for the category. We approach this opportunity in two ways: first, by developing performance technologies in the Cotton Incorporated Research & Development labs; in addition, we collaborate with leading technology suppliers that have solutions that really work.
"Moisture-wicking cotton provides comfort and performance — two qualities you need when living an active lifestyle," Kimbrell continued, noting that performance cotton technologies also address concerns consumers have regarding odor retention in performance synthetic fabrics and possible adverse environmental effects of synthetic microfibers.
Potential applications for Dry Inside include not only active apparel, but also knit bedding, military base layers, and socks and footwear. Kennedy said apparel brands are sampling treated cotton fabrics now, and he expects end products featuring the technology will appear at retail in the next year.
---
For more information about Nanotex® DRY INSIDE, contact Bart Kennedy +201-370-1105; bart@nanotex.com.
---
November/December 2016