Südwolle's eco-friendly Naturetexx® Plasma treatment uses electricity and air rather than chlorine to make machine-washable wool.
By Janet Bealer Rodie, Contributing Editor
For some years, the standard, most cost-effective treatment for producing machine-washable wool has involved the use of chlorine and Hercosett, a thin polymer resin, to prevent the scales, or cuticles, of the wool fiber from interlocking and causing felting and shrinkage. However, adsorbable organohalogens (AOX) can form as a byproduct of the chlorine process, and the AOX, if not properly treated, can pollute the process wastewater.
One environmentally sustainable alternative to the chlorine-Hercosett process is a plasma treatment, branded Naturetexx® Plasma by Germany-based yarn manufacturer Südwolle Group, that uses electricity and air to make the wool machine- washable. This treatment, which has been in development for about 10 years, is already featured in organic Merino wool and wool-blend performance apparel offered in niche markets, and it is on track to become a viable commercial alternative for broader performance apparel markets. It complies with the Global Organic Textile Standard and Naturtextil IVN Best standard for organic use, and the bluesign® system for sustainable textile production. The technology received an Industry GOLD Award at the 2015 OutDoor trade show in Germany, where Naturetexx Plasma yarns were featured in Germany-based Engel GmbH's Engel Sports collection of Merino wool/silk athleticwear. Südwolle also presented the technology at the latest Outdoor Retailer markets in Salt Lake City and reports serious interest from a number of brands.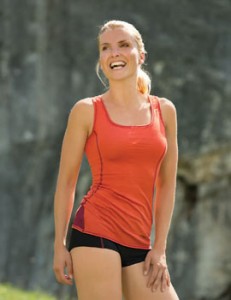 Hamish Allan, Südwolle's marketing manager, explained how Naturetexx Plasma differs from the Chlorine-Hercosett process: "In the chlorine treatment, the chlorine basically damages the cuticles to make the surface smoother, and then a resin is added in a wet solution to smooth the fibers so they can move past one another in both directions during washing. The plasma treatment essentially achieves the same outcome, but an electricity discharge between two electrodes creates a field of energy that reacts with the surface of the wool fiber and reduces the scales without damaging the fiber itself." No resin nor process water is required in the plasma treatment, he added.
Allan said the resulting Naturetexx Plasma wool is more hydrophilic and has a slightly drier hand than conventional Superwash wool, and offers comparable strength and good pilling performance. To add to its ecological credentials, the plasma machine runs using renewable energy. Südwolle also notes that other company facilities generate more solar energy than is needed for the plasma treatment.
Südwolle offers its Naturetexx Plasma yarns in a variety of counts and blends.
The wool top going into those yarns is processed at the company's dyehouse and treatment plant in Germany, which has sufficient capacity to service customers with supply chains in Europe and in Asia.
---
For more information about Südwolle's Naturetexx® Plasma wool, contact Hamish Allan, yarns@suedwolle.de.
---
January/February 2016