By Janet Bealer Rodie, Contributing Editor
Coolcore LLC, Portsmouth, N.H., now offers 30 to 35 fabric styles featuring Coolcore® evaporative cooling, moisture-management technology for sports and outdoor applications. The chemical-free technology uses no phase-change materials, gels, polymers or crystals to realize its performance, which is permanent and based solely on the fabric construction. The evaporative cooling, wicking and moisture transportation combined have been shown to help lower the fabric's surface temperature by up to 30 percent compared to the wearer's skin temperature, and also to significantly reduce cling. The Germany-based Hohenstein Institute has awarded the technology its Hohenstein Quality Label "Innovative Technology – Cooling Power."
In 2009, Coolcore predecessor Cool Comfort Technologies Inc. introduced this technology in cooling towels and bandannas (See "Quality Fabric Of The Month: Chilling Out With A Cool Cloth," TextileWorld.com, August 2009). Technology inventor Dennis D. Ackroyd, now Coolcore's chief technology officer, continues to develop the technology, which features hollow polyester fibers to channel moisture. The product range now includes ice and compression wraps, headwear, shirts, and other products. Fabrics include knits and wovens in polyester or blends with spandex, nylon or other fibers. There are spacer fabrics for ice wraps. Blends with cotton, wool or bamboo viscose currently are in development.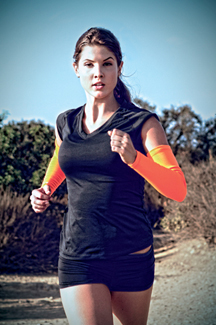 Coolcore® arm sleeves move sweat from the wearer's arms into the fabric's hollow fibers, and air circulation around the fiber core activates the cooling technology.
In towels and bandannas, cooling is activated by wetting the item, wringing it out and snapping it to kick off the evaporative regulation. In items such as arm sleeves and shirts, activation is based on the wearer's sweat and body movement, said Nicholas Skally, Coolcore's vice-president of branding and marketing.
"A little air flow is key — that is similar to what snapping does," Skally explained. "The fabric keeps you cool as long as there's moisture present. It's a smart textile that is responsive to the environment and performs its different functions depending on what's going on with your body."
Coolcore markets its own product line under the Dr. Cool® brand and also offers the technology through other apparel brands. Bourbon, Mo.-based Imperial Headwear supplies golf caps and gloves "powered by Coolcore" to golf shops nationwide. Seattle-based Brooks Sports Inc.; L.L. Bean Inc., Freeport, Maine; and Cabela's Inc., Sydney, Neb., will launch apparel and accessory collections in Spring 2016.
Coolcore has partnered with development and sourcing services provider Concept III Textiles International, Red Bank, N.J., to expand its market reach. "This product is well-designed, and the technology is very environmentally friendly," said Concept III Founder and CEO David Parkes. "We're introducing it sensibly and working at the top of the market." Parkes anticipates more product launches to come in the future.
---
For more information about Coolcore®, contact Scott McQuade +603-319-1038; smcquade@coolcore.com; coolcore.com.
---
November/December 2015