By Janet Bealer Rodie, Contributing Editor
3M™ Thinsulate™ Featherless Insulation — launched last year by St. Paul, Minn.-based 3M as a cost-effective loose fill alternative to natural down insulation — has in recent months received accolades, including a 2015 ISPO Award as a Top 10 Insulation. ISPO — a major sporting goods trade show held each winter in Munich, Germany, and in Beijing — highlighted the winning innovations during the ISPO Textrends Forum at each venue.
The Thinsulate brand has been well-known and respected since its debut in the 1970s, first for skiwear and subsequently for footwear and all sorts of outerwear and outdoor gear applications. According to 3M, the breathable, moisture-resistant polyester insulation comprises microfibers or fine fibers that are finer than those used in most other insulation products, and as a result trap more air in less space to provide insulating performance. Until recently, all Thinsulate products have been produced in batted form.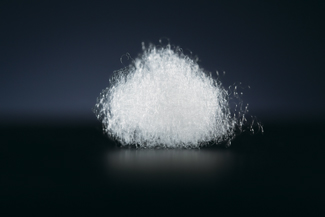 3M™ Thinsulate™ Featherless Insulation is a cost-effective, hypoallergenic, loose fill alternative to down insulation that maintains its 600 fill power rating even when wet, according to the company.
3M developed Thinsulate Featherless Insulation specifically as a loose fill product to provide the same or superior insulating performance, loft and fill power compared to natural down, offering twice the loft of down when wet. The new insulation maintains 600 fill power — a measure of an insulation's fluffiness, expressed as cubic inches per ounce — even in wet conditions, the company reports, noting that the fibers absorb less than 1 percent by weight of water. 3M lists other advantages as well, noting that the insulation is hypoallergenic and does not migrate as much as down. It also complies with Oeko-Tex Standard 100's harmful substances requirements. Targeted applications include general wear, sportswear, accessories and bedding.
Thinsulate Featherless Insulation is featured in garments that were shown at several of the 2015 winter sporting goods trade shows, including ISPO, Outdoor Retailer Winter Market and SnowSports Industries America's SIA Snow Show. Among the brands using the new insulation are Quiksilver, Merrell, Rab®, Bench, Carhartt® and Rossignol.
"3M Thinsulate Featherless Insulation received phenomenal feedback at the 2015 winter trade shows," said Leslie Kramer, 3M Thinsulate Insulation marketing manager. "Manufacturers and retailers alike have been impressed with the warmth, loft and feel of this revolutionary new insulation from 3M."
---
For more information about 3M™ Thinsulate™ Featherless Insulation, contact Leslie Kramer +651-737-8539; lkramer@mmm.com.
---
May/June 2015