By Janet Bealer Rodie, Contributing Editor
Recent successes at Kraig Biocraft Laboratories, Lansing, Mich., and its development partner Warwick Mills Inc., New Ipswich, N.H., are bringing Kraig Labs' Monster Silk® hybrid spider/silkworm silk ever closer to commercial viability.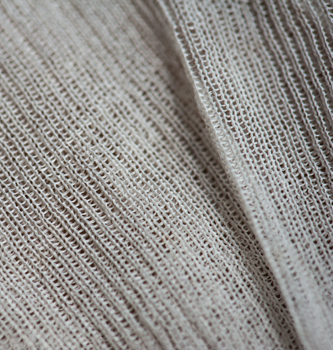 Knitting trials conducted by Warwick Mills have shown that Kraig Labs' Monster Silk® can be processed using conventional machinery.
Monster Silk is produced by transgenic silkworms whose genetic makeup includes a combination of certain spider silk proteins with silkworm proteins (See "Quality Fabric Of The Month: Spider Silk: Potential Unleashed," January/February 2012). Although there is only a small percentage of spider silk protein in the fiber, the silk is significantly stronger and more elastic than conventional silk. In addition, the process is simple, direct and scalable; and the yarn can be produced at a cost comparable to that of conventional silk, according to Kraig Labs Founder and CEO Kim K. Thompson.
Kraig Labs recently doubled Monster Silk output and has reached full capacity at its production facility. It hopes to beef up infrastructure and further double production there by the end of this year, Thompson said. The company also is looking into launching very large-scale production in Vietnam. "Vietnam has an excellent infrastructure in place for silkworms, as well as idle capacity and skilled, underutilized people; and we would be able to move very quickly to production," he said.
Kraig Labs also has achieved a breakthrough in its efforts to ensure filament uniformity. "Variation from cocoon to cocoon has been a big concern, but we have developed a protocol that eliminates that variability," Thompson explained, noting that there is a certain amount of genetic variation in the silkworm colony. "It allows us to test for that variation before the silkworms spin the cocoons, choose those that are producing the highest quality for breeding, and improve the colony." Thompson anticipates that filaments produced by subsequent generations will have improved average strength and flexibility.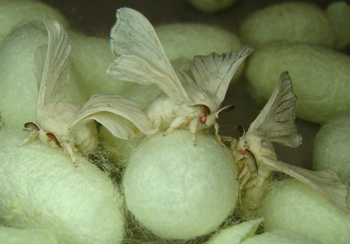 The red eyes of the silkworm moths in a Monster Silk colony are unique to these transgenic creatures.
Warwick Mills, a long-time textile engineering and development specialist with a focus on technical fabrics, has been conducting twisting and plying trials and recently completed a successful trial knitting Monster Silk yarn into gloves, demonstrating that the yarn can be processed using conventional machinery — a further advantage costwise. The company soon will begin weaving trials to see how the yarn behaves on conventional weaving machinery. Ultimately, Warwick plans to develop and patent new technical textiles and structures that best accentuate Monster Silk's mechanical properties.
"This is going to be fine string," said Charles Howland, Warwick's president and chief engineer. "In the end, it will come down to deciding what set of parameters to emphasize first and developing a target application, a knit or woven textile, and a finishing strategy for a specific product."
---
For more information about Kraig Labs' Monster Silk®, contact Kim K. Thompson +517-336-0807; kraiglabs.com.
---
September/October 2014