By Janet Bealer Rodie, Contributing Editor
Workers involved in hazardous activities such as oil and gas exploration and drilling and utility work in extreme weather environments like those found in Alaska, Canada or North Dakota now have a new outerwear solution that provides protection from the elements as well as from hazards associated with electrical arc flash and flash fire. According to Brian Schmidt, senior category manager for Dearborn, Mich.-based workwear manufacturer Carhartt, the company spent more than two years developing its Carhartt Extremes® Arctic outerwear line comprising a parka, coat, biberall and hood — all meeting NFPA 70E Hazard/ Risk Category 4 (PPE Level 4) requirements and able to shield workers from high winds and temperatures well below zero — even as low as -60°F. The line features Carhartt's proprietary Wind Shield® wind-resistant technology applied to Mount Vernon Mills' 9-ounce AMTEX™ PLUS cotton/high-tenacity nylon flame-resistant (FR) canvas fabric, woven by the Mount Vernon FR division in Trion, Ga.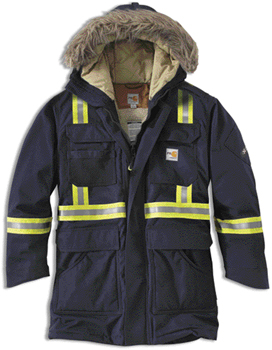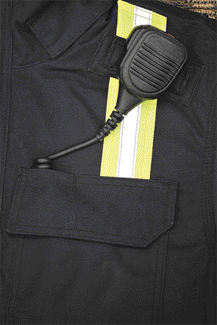 Carhartt's Extremes® Arctic parka and coat feature special pockets inside and outside to hold tools, and an innovative pass-through port for a radio microphone and cord.
"We did some research with end users in Alaska and determined that their outerwear needed to be warm, comfortable, nonrestrictive and lighter-weight than what's currently on the market," Schmidt said. "It also needed to have a great amount of functionality, with pockets to hold tools — specifically, a gas monitor and a radio including microphone and cord.
"The combination of the Amtex Plus canvas with our Windshield technology makes for a really good outerwear fabric," Schmidt said. "It has a nice drape, moves easily, is not as stiff as comparable fabrics, and yet still feels and looks like what you would expect from Carhartt."
The FR performance of Amtex Plus is guaranteed for the life of garment. "We use an FR process, not a finish," explained Craig Tutterow, FR technical director, Mount Vernon FR,. "We saturate the fabric with a monomer that will be polymerized when treated with nitrogen delivered in an ammonia gas, so you get a 3-D polymer chain formed within the fabric. It can't be washed off, scraped off or blown off — it's inside, outside and within the fabric."
The quilted lining in the garments is comprised of lightweight 3M™ FR Thinsulate™ 200-gram platinum insulation and a 6-ounce Amtex Plus twill. There is moisture-wicking Polartec® FR grid fleece on the inside of the coat collar. To further keep the core of the body warm, Carhartt's FR Sherpa lining helps insulate the wearer's back.
"A lot of heat is exhausted across the shoulders and down the back,' Schmidt said, noting that keeping the core of the body warm will help keep the extremities warm. "The Sherpa lining on top of the quilt package provides an additional layer that keeps the back warmer."
The Carhartt Extremes Arctic line is produced for the North American market in Carhartt's factory in Mexico.
---
For more information about Carhartt's Extremes® Arctic outerwear, contact carhartt.com or mvmfr.com
---
July/August 2014