By Janet Bealer Rodie, Contributing Editor
Eastman Chemical Company, Kingsport, Tenn., has developed a new technology platform for manufacturing microfibers for wetlaid nonwovens applications including filtration, specialty papers and battery separators. Eastman Cyphrex™ microfibers, made using islands-in-the-sea bicomponent fiber technology and a water-dispersible sea polymer, can be produced in a variety of shapes and sizes using a range of synthetic fiber polymers. The manufacturing process yields high-surface-area microfibers measuring less than 5 microns in diameter that are highly uniform and are processed easily in a wetlaid system.
The first Cyphrex microfibers are round polyethylene terephthalate fibers, and other varieties are in development. "In the future, you could see a wedge-shaped fiber or a flat fiber, or perhaps something different," said Fred L. Dulin, Eastman's director, microfibers platform,
noting the different shaped fibers could be blended together to answer needs for various applications. Fibers made with other polymers are also in the works.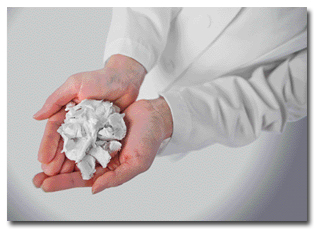 Eastman Cyphrex™ microfiber pulp enables high-performance, high-value solutions in
nonwovens markets such as air, water or fuel filtration; specialty papers; and battery
separators.
The water-dispersible sea polymer is removed from the bicomponent fiber using hot water — a gentler process that does not impact the microfiber itself, compared to the harsh, caustic process
that is typically required to dissolve conventional sea polymers, and which impacts fiber uniformity. "With the water-dispersible sea, the microfibers are consistently round and within a
very narrow distribution of diameters," Dulin explained, adding that a more uniform fiber enables more finely tuned-in properties, such as porosity or other characteristics desired in the end product.
"We really seem to be unlocking our customers' ability to overcome trade-offs," he said. "In a lot of filtration applications, for example, if you go for a higher level of particle capture, you give up capacity or filter life." In contrast, Cyphrex can enable gains in both particle
capture and capacity.
Dulin said Cyphrex processes very much like a cellulosic fiber. "Traditional synthetic fibers can tend to disperse rather poorly, and there's a hesitancy to use them for that reason," he noted. "Our customers can easily blend Cyphrex with cellulose, glass and other fibers according to the overall performance they desire."
Eastman also is working on a slightly larger version of the initial product. "A slightly larger fiber will be able to provide a more open sheet," Dulin said. "It also can be blended with
smaller fibers to dial in a level of porosity based on the amounts of the two fibers in the blend."
Ahlstrom Corp., Finland, is using Cyphrex in Ahlstrom Captimax™, a diesel filter media for use in vehicle applications, and potentially in hydraulic and fuel water separation applications. The company notes that with the media's increased capacity, the filter can be reduced in size and yet provide the comparable capacity of a conventional larger filter, while also offering increased efficiency and improved fine-particle filtration.
---
For more information about Eastman Cyphrex™ microfibers, contact +800-EASTMAN; microfibers@eastman.com; eastmancyphrex.com.
---
September/October 2013