By Janet Bealer Rodie, Contributing Editor
For ice hockey players, protecting the Achilles tendon from a slash by the blade of another player's skate is a paramount concern that has been addressed by the incorporation of a cut-resistant yarn such as para-aramid into socks designed for that sport. However, most cut-resistant socks tend to be bulky and uncomfortable, and some players have risked possible injury because they prefer to wear non-protective performance-enhancing socks that offer attributes such as moisture management and compression.
Brentwood, Tenn.-based performance sock manufacturer Swiftwick's Cut-Resistant Hockey Sock is a compression sock that provides cut- and impact-resistant protection where it is needed, wicks and channels sweat, and also prevents odor and fungal growth. The unique construction has been enthusiastically received by professional hockey players on several teams, and Swiftwick now is offering the sock to the consumer market.
According to Swiftwick CEO and Co-founder Mark Cleveland, the HG (Holy Grail) protective yarn in the Cut-Resistant Hockey Sock is a composite yarn featuring a blend of Twaron® para-aramid, Spectra® ultra-high-modulus polyethylene, and polyester wrapped around a glass fiber core. The HG yarn is plated with a hydrophobic olefin that lies next to the skin, and that plated yarn covers the back of the calf – and in one sock model, also a potentially vulnerable section of the front of the leg.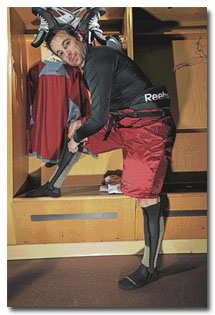 New Jersey Devils Forward Steve Sullivan says that with the Swiftwick Cut-Resistant Hockey
Sock, "I don't sacrifice performance for my protection. I can feel the ice with great blade
control."
"We're trying to protect the player from an impact slice or slashing motion. If you wrap aramid around a glass fiber core, you get an impact resistance that no other product has attempted to address," Cleveland said. "No other sock on the market has ever combined cut resistance,
moisture wicking and compression. In addition, these socks do not inhibit performance on the ice. We're able to manage moisture while providing blood flow benefits and the performance enhancement
of compression, without compromising the overall feel of the sock."
The sock's 4-inch cuff puts olefin next to the skin. It has four levels of plating and acts as an "upper body sweat dam." Much of the outside of the cuff and the sides of the sock contain hydrophilic trilobal nylon to channel sweat to the bottom of the foot to an Ejection Port™ above a
hole drilled in the skate that allows the moisture to exit. The front of the sock also is made with moisture-wicking olefin. "We're trying not only to wick moisture, but also to attract moisture and keep it in that channel and let gravity force it to the bottom of the skate, where it is ejected,"
Cleveland explained.
In addition, a silver-ion-based antimicrobial to prevent odor and fungal growth is covalently bonded to the sock materials using a patented process.
Founded in 2008, Swiftwick manufactures all socks at its Brentwood facility.
---
For more information about Swiftwick's Cut-Resistant Hockey Sock, contact Nikki Trojanowski +317-202-2280 Ext 25; nikki@dittoepr.com; swiftwick.com.
---
May/June 2013