By Janet Bealer Rodie, Contributing Editor
Aerogels, developed in the 1930s and first used as insulating materials in industrial and National Aeronautics and Space Administration (NASA) applications, now are finding their way into outdoor apparel, footwear and other outdoor gear. The nanoporous materials comprise an amorphous silica gel impregnated into a nonwoven flexible substrate. The resilient, thin batts thus produced are made up more than 90 percent of air; resist compression under load; and retain their thermal performance even when pressures as high as 50 pounds per square inch (psi) are applied. In testing, they have been shown to exhibit the lowest thermal conductivity compared to foams, fiberglass and lofted polyester insulation; and the highest Clo-value per inch compared to polyester down and batting.
Aerotherm aerogel insulation, Clinton, Mass., has developed a way to encapsulate the raw aerogel material, which is custom-manufactured by Northborough, Mass.-based Aspen Aerogels using a polyester nonwoven substrate and supplied in rolls to Aerotherm's manufacturing facility in South
Korea, where it is slit, cut into specific pattern panels according to application and encapsulated in a polyurethane membrane. The material by itself is dusty and tacky-feeling, and the encapsulation makes it easier to handle than the raw material and more suitable for incorporation into apparel and footwear.
Because of its demonstrated thermal performance and resilience, Aerotherm® aerogel insulation is particularly suitable for extreme weather applications. Among targeted end products and
components are: footwear including ethylene vinyl acetate (EVA) molded and flat insoles, liners, strobe, uppers, tongue, toe cap, and other components; apparel including jackets and vests, elbow, shoulder, knee, seat, thigh and other key heat-loss and/or compression zones; and gear including gloves, seat pads, grill mitts, thermal coolers and other gear. Recommended thickness for footwear components is 3 millimeters (mm); and for apparel and gloves, 2 mm.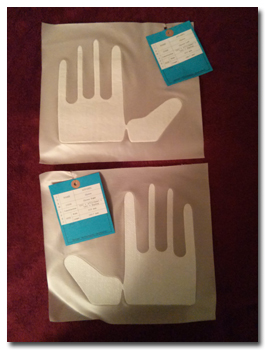 Aerotherm aerogel insulation panels encapsulated in a polyurethane membrane are
custom-manufactured according to product specifications.
In addition to its U.S. headquarters and its South Korea plant, Aerotherm has a European headquarters in Russia to handle business in the European Union, and a sales force in China to handle all business in Asia and work closely with the factories in the region. According to Sales and Marketing Director Jonathan Klein, the company works with retailers, brands, product developers, designers and manufacturers to provide customized solutions for their various products, beginning with helping to develop prototypes and then manufacturing components, or shaped panels, according to final product specifications. Those panels, which have a 1-inch seam allowance to facilitate sewing or bonding to fabrics, are then shipped to the customer's factory along with instructions; and Aerotherm supports the end-product manufacturing as needed.
"Our operation is completely global and seamless, and our facility in South Korea is tied into all the discussions," Klein said.
In garments, Klein recommends that Aerotherm be used in conjunction with a lofted insulation. "We recommend using Aerotherm in high-compression, stressed areas such as the elbows, knees and seat," he said. "We don't recommend using it throughout the garment because it's going to be way too warm and not really breathable. However, it's excellent for designers because they can create their own breathability around the panel."
By incorporating Aerotherm into the garment, the bulk of the garment is reduced by almost half, Klein added. "That's what a lot of brands are looking for, in boots as well as garments."
Klein noted that the insulation becomes more flexible and softer with continued laundering, adding that the company is working to develop a softer, more stretchy adhesive material to improve the flexibility even more.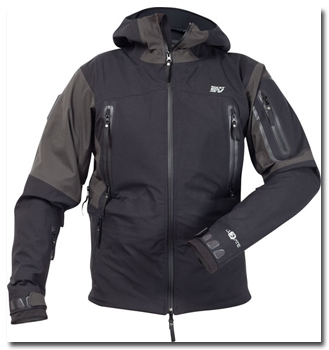 Rocky Brands' Rocky® S2V provision jacket featuring Aerotherm® aerogel insulation received an
ISPO Award at ISPO Munich 2013.
Several apparel and footwear brands have introduced products featuring Aerotherm aerogel insulation; and two of those products received awards at the winter 2013 edition of ISPO Munich, a trade show targeted to the outdoor, ski, action and performance sports sectors. Rocky Brands Inc., Nelsonville, Ohio, won an award for its Rocky® S2V provision jacket for extreme weather applications. Millet, France, was recognized for its Everest Summit Gore-Tex® mountaineering boots.
Salomon, a global manufacturer of boots for various outdoor activities, also offers a boot that features Aerotherm insulation.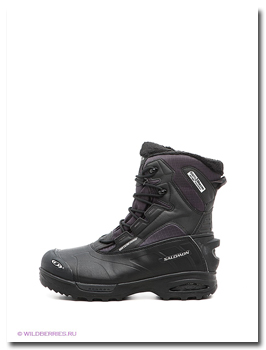 Salomon has incorporated Aerotherm aerogel insulation into the boot shown here.
Aerotherm also offers retail products including insoles, seat pads and gloves under its Aerotherm – Essential Equipment Collection. These products can be private labeled as well, Klein said.
---
For more information about Aerotherm® aerogel insulation, contact Jonathan Klein +1-508-330-0171; j.klein@aerotherminsulation.com; aerotherminsulation.com.
---
April 2013