PurThread Technologies Inc., Durham, N.C. — developer of an antimicrobial technology based on silver, copper and other elements that it integrates into nylon and polyester polymers during fiber
formation to provide permanent efficacy — now is developing textile products such as privacy curtains, linens, scrubs and doctors' coats that contain its proprietary Complex Element Compound, with the intention of reducing the bioburden of such soft surfaces and, hopefully, the incidence of healthcare-associated infections (HAIs) in the clinical environment. HAIs impact some 5 percent of patients admitted to hospitals, according to the Centers for Disease Control and Prevention, accounting for 1.7 million infections at a cost of up to $45 billion per year. Between 20 and 40 percent of these infections reportedly are transmitted to patients via hand contact from healthcare workers despite frequent hand-washing, because pathogens can linger on hard and soft surfaces they may touch in the environment.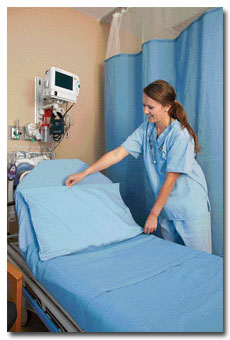 PurThread Technologies has developed hospital privacy curtains, surgical scrubs, linens and
other textiles containing its continuously active Complex Element Compound.

Soft textile surfaces may be harder to keep clean than hard surfaces because pathogens can nestle into the fabric. A recent study of contamination on traditional hospital privacy curtains revealed that 92 percent of the curtains became contaminated with methicillin-resistant
Staphylococcus, vancomycin-resistant Enterococcus and/or other bacteria within one week after laundering. Intervals between launderings may span months, and such curtains are touched frequently
by hospital workers while they are working with patients, so unless those workers wash their hands immediately after touching the curtains, they risk passing infections to the patients.

"We are trying to break the chains of pathogen transmission from surfaces to vulnerable patients, and improve patient outcomes through the reduction of incidence of HAIs," said Bill O'Neill, vice president of infection control applications, PurThread Technologies, adding,
"Infections are very expensive to treat. If we reduce them, we will also reduce the overall financial burden for the healthcare system."
O'Neill said a follow-up study has been conducted in a hospital setting to test the efficacy of PurThread's technology on privacy curtains, and the conclusions have been quite promising. The peer-reviewed study has been accepted for publication in a major infection control journal. "The study showed a meaningful bioburden reduction on PurThread curtains," he said.
PurThread has submitted its technology to the Environmental Protection Agency for registration as an antimicrobial technology, and expects to offer products on the market later this year. The company is working with U.S. fiber, yarn and fabric producers to make the fabrics. Beal
Manufacturing Inc., Gastonia, N.C., is spinning the yarn. End products will be cut and sewn in Mexico. Because the compound is permanently integrated into the fiber, the textiles need no special handling and can be laundered and otherwise treated using traditional healthcare laundry protocols.
---
For more information about PurThread's Complex Element Compound, contact Bill O'Neill or Jenifer Smyth +800-673-5939; info@purthread.com; purthread.com.
---
July/August 2012