Polybenzimidazole (PBI), a flame-resistant (FR) fiber produced by PBI Performance Products Inc., Charlotte, has been utilized to protect astronauts, firefighters, first responders, military personnel, and petrochemical and utility workers for more than 40 years. Developed in the 1960s, the fiber is known as a high-performance, lightweight FR solution that doesn't melt, drip, shrink or char significantly or break open under high heat and flame; and produces no off-gassing when a
flame is extinguished. It also is flexible and breathable, has the same moisture regain as cotton, and offers good moisture management — making it suitable for baselayer applications. PBI BaseGuard™, a recently developed blend with 20-percent PBI, 70-percent Lenzing FR® and 10-percent Tencel®, is garnering interest as a very comfortable baselayer solution that takes advantage of the additional FR characteristics of Lenzing FR and the soft hand of both cellulosic fibers.
FesslerUSA, Orwigsburg, Pa., is knitting the yarns, spun by McAdenville, N.C.-based Pharr Yarns Inc., into fabrics and making them into T-shirts, baselayers and polo shirts branded FusaFR®.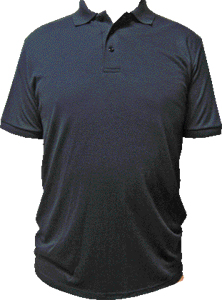 FesslerUSA's FusaFR® custom garments have been certified to be compliant with the National
Fire Protection Association's NFPA 2112 and 70E, level 1 and 2, standards.

According to William Lawson, COO, PBI Performance Products, PBI BaseGuard was developed for the military as a low-cost PBI alternative that gives flash-fire protection and is quite comfortable to wear. "As we tested it, we found more and more places where it could be used, and
now we're really pushing it for other markets, such as industrial and utility — it does very well in arc flash testing — and it's very comfortable compared to other FR products that are out there," he said.
PBI worked with Pharr Yarns to develop the yarn, which comprises an intimate blend of the three fibers. "Pharr Yarns knows and understands fiber," said Jim Sells, group president of Pharr Yarns' High Performance Yarn Division. "We have strong skills in blending fibers, and we make sure there's the right amount of each fiber so the yarn always passes the test."
Pharr Yarns winds the yarn on packages for FesslerUSA, which worked with PBI to overcome yarn-processing challenges. "The processing requires some very specific controls on knitting and finishing, and it was a challenge to make the fabric consistently with the shrinkage and pilling
performance needed," said Brian Meck, vice president, sales and marketing, FesslerUSA. "PBI also wanted to work with a vertical mill and needed concept garments, and we can offer full-package and custom garment manufacturing."
FesslerUSA adds a Microban® antimicrobial and an anti-pilling finish to the knitted fabric. Meck said the finishes are durable to 50 launderings. Knitted fabrics include a lightweight jersey suitable for baselayers and a heavier interlock suitable for polo shirts and station T-shirts. In addition to the military, first-responder, fire and industrial markets, Meck said there also is interest in the automobile racing market for the FusaFR products.
---
For more information about PBI BaseGuard™, contact Kim Henry +704-554-3106; kimhenry@pbiproducts.com.
For more information about FusaFR® garments, contact Brian Meck sales@fesslerusa.com
---
May/June 2012