A new patent-pending silicone-based technology is challenging traditional fluorocarbon-based technologies in the area of durable water repellent textile finishes, especially those applied to cellulosic and blended fabrics. While polytetrafluoroethylene (PTFE) has long been regarded as the most effective solution to achieve water repellency in textiles, its ecological impact has raised well-publicized concerns, and while more eco-friendly shorter-chain C6 and C4 versions of PTFE
technology have been developed, there still are issues related to the hand imparted to the textiles on which they are applied. Midland, Mich.-based silicon technology specialist Dow Corning now has
introduced to this corner of the market Dow Corning® DWR-7000 Soft Hydro Guard finish, claiming it offers not only effective, durable water repellency and waterborne stain repellency, but also imparts a much softer hand — a benefit that is creating excitement among major outerwear and activewear brands that offer water-repellent, performance apparel.
Silicones have applications in a very wide range of industries, from automotive, construction, electronics, and oil and gas to beauty and personal care, food and beverage, healthcare, and textiles and nonwovens, among many other applications. In textiles, they are used
to provide easy care, comfort and high-performance properties. They can be made hydrophobic or hydrophilic, and as a hydrophobic water-repellent agent on a textile, they cause water to bead up on the surface and roll off, while also allowing water vapor to pass through the fabric.
Silicon-based water repellents have been developed before, but their wash durability and emulsion stability have been limited; and they can release hydrogen gas, among other issues. In contrast, DWR-7000 Soft Hydro Guard has been confirmed through testing to meet or exceed the durability of conventional fluorocarbon finishes, withstanding 30 and more home laundry cycles; and, in addition to containing no fluorine, it is free of solvents and alkylphenol ethoxylates (APEOs). Dow Corning
also points out that the DWR-7000 system offers potential cost savings compared to fluorocarbon-based systems and can replace multiple finishing components, and it does not require the application of heat for reactivation. The system can be applied to a textile using conventional
equipment.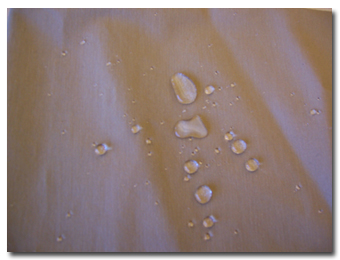 Dow Corning® DWR-7000 Soft Hydro Guard causes water to bead up on a cotton khaki twill
fabric treated with the finish, while enhancing the softness of the fabric.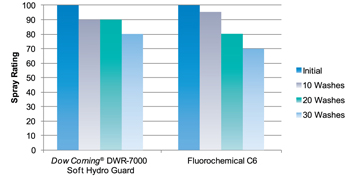 Comparison of water repellency performance of khaki twill after washing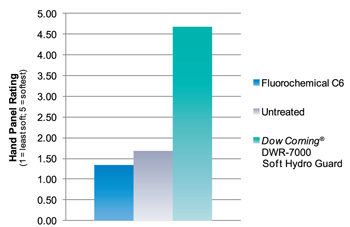 Comparative hand rating of khaki twill treated with water repellents

The environmental benefits to using DWR-7000 include the fact that the silicones used in the system do not have any toxicological effects or show evidence of bioaccumulation. However, according to Joanna Giovanoli, marketing manager, Dow Corning Textiles, the benefit that is of most interest to brands and retailers is the soft hand imparted to the fabric. "Silicone is generally a softening agent anyway," she said. "There are other solutions in the marketplace beyond C6 and C4 for water repellency, and potential issues with those regarding their environmental impact were not as much our concern. What we found is that with DWR-7000, the soft hand is superior to other solutions in the market, and that is one thing our customers are very excited about."
Indeed, in an examination of swatches of treated cotton knit fabrics, Textile World found a notable difference between the hand and feel of a knit cotton fabric treated with DWR-7000 and one treated with a C6 finish, while both delivered equivalent water repellency. The fabric tested would be suitable for sweatshirts, hoodies and other such apparel.
DWR-7000 Soft Hydro Guard is targeted to cottons and cellulosic/man-made fiber blends, but Giovanoli said the company also is working on a formulation specifically for man-made-fiber textiles. Although the new finish currently is targeted to performance apparel, other potential
applications include home textiles such as tablecloths and upholstery fabrics.
---
For more information about Dow Corning® DWR-7000 Soft Hydro Guard, contact dowcorning.com/DWR7000, dowcorning.com/ContactUs.
---
April 17, 2012