Technical yarn manufacturer EY Technologies, Fall River, Mass., over the past five years has been developing highly conductive, textile-grade microwire filaments for electrotextile applications. Working with the U.S. Army under a Small Business Innovation Research (SBIR) program, the company has reached Phase III of the program and is commercializing its iCON filaments to provide data and power transmission in wearable electronics, smart apparel and a broad range of technical textiles.
The filaments comprise a very fine metal alloy core and a polyester or nylon polymer insulating sheath that are coextruded using a patented process that differs from melt spinning to produce bicomponent filaments measuring from 25 to 100 microns in diameter. Dr. Rathnâ Perera, EY Technologies' engineering director of new product development, said the most common alloy used in iCON contains silver and indium, and is designed to provide the highest possible conductivity and lowest possible melting temperature, all for a relatively low cost. Alternative alloys also can be used for specified purposes, including both low-temperature and high-temperature applications. The sheath is dyeable and washable, and the yarn can be processed on standard weaving or flat or circular knitting machinery.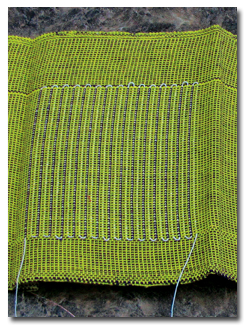 iCON microfilament, also shown below dyed and undyed on spools, is woven into a narrow fabric
that could be a flexible electronic component in a smart garment.  
As the filaments are very fine and flexible, their integration into apparel does not affect the garment's comfort and drape, and their high conductivity and bandwidth provide improved electrical performance compared with conventional conductive yarns.
"This filament is designed for the textile industry," Perera explained. "It is a flexible, textile-grade, conductive, insulated microfilament that does not reduce the conformability of the cloth. And, because of the nature of the polymer we are using, it is hidden in the fabric, so the wearer wouldn't even know there is a wire there."
iCON can be used as a single filament and, as such, it is strong enough to handle stress from standard textile and finishing equipment; but it more likely would be integrated into or run alongside a yarn.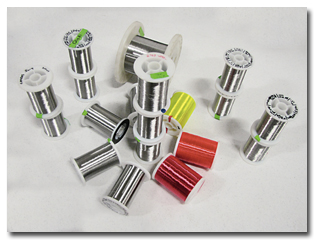 "I picture this as one filament among others in a yarn that could be yarn-dyed or piece-dyed, and it would blend in nicely with the adjacent fibers," said Gerald Mauretti, the company's president, adding that it can be combined with textile fibers such as cotton, wool, nylon and
polyester.
The e-textile would be designed so that the conductive yarns connect with a power source and any electronic devices through a connection point on the fabric, and the devices could be disconnected to launder the textile. Perera said iCON has more than enough bandwidth to be used in data transfer applications, and because of its high conductivity, it uses minimal power, thereby enhancing battery life.
---
For more information about iCON technology, contact Dr. Rathnâ Perera 1-508-673-3307; rperera@eytech nologies.com.
---
September/October 2010