Dyneema® ultra-high-molecular-weight polyethylene gel-spun fiber is tagged by its producer, the Netherlands-based DSM Dyneema, as "Dyneema®, the world's strongest fiber™." The ultra-lightweight
fiber is 15 times stronger than steel and 40-percent stronger than aramids on a weight-by-weight basis; and is chemical-, ultraviolet- and moisture-resistant. Its uses in a host of marine, industrial, medical and protective applications are well-known.
Among the protective applications are protective layers and suits worn by athletes participating in fencing, ice skating and other sports in which cut and abrasion protection are paramount; as well as jeans and other apparel for motorcycling. In these applications, Dyneema is
used in combination with other fibers that enhance the ever-important functions of comfort and ease of mobility as well as garment aesthetics.
"We are blending our fine fiber with all kinds of different conventional fibers," said Eelco van Oosterbosch, DSM Dyneema's new business development manager. "Our partners for sports applications are blending Dyneema with acrylic, polyester, nylon, cotton, wool, spandex and other fibers. Also, closely linked to sports applications are motorcycle jeans, where they are blending Dyneema with, for example, cotton, or looking at adding liners to conventional constructions."
"While Dyneema on the one hand offers better protection than other protective products, it's the combination with comfort that really differentiates us from conventional materials," said Nathali Donatz, the company's brand manager. "That's why our partners are developing different kinds of blends to see which one offers the needed benefit."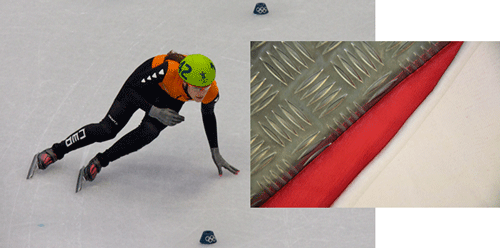 The skin suits worn by the 2010 Dutch Olympic short track team were made from a double
jersey fabric with Dyneema on the underside and nylon on the outer side.
The first sports application for which Dyneema was blended with another fiber was the suits worn by the 2004 Swiss Olympic fencing team. In 2007, Royal DSM N.V., parent of DSM Dyneema,
debuted Innovation is our Sport™ — an umbrella program under which sports, technology and innovation are linked to develop material and nutritional products. The Netherlands Olympic Committee is a partner in activities conducted under the program, and a number of innovations have been developed for the country's Olympic teams.
As the 2010 Winter Olympics in Vancouver, Canada, approached, DSM partnered with the Royal Dutch Skating Association (KNSB) to develop a skin suit that would provide optimal comfort along with full-body protection for the Dutch Olympic short track team. Together, DSM and KNSB formed working groups to jointly develop technology for the solution, and KNSB facilitated workshops in which members of the skating team described what they would like to see in a suit. DSM then worked with Liechtenstein-based fabric developer Fuchschuber Techno-Tex GmbH, Sweden-based athletic apparel brand CRAFT's Benelux office and the Netherlands-based athletic apparel maker Sportconfex B.V. to develop the fabric and the suits. The result of all this collaboration was a double-faced single-layer knit skin suit that is lighter-weight, closer-fitting and therefore more comfortable than the traditional two-layer skin suits; and also exceeds the International Skating Union's protective performance requirements.
According to van Oosterbosch, while mandatory protective requirements ensure the athlete's safety, wearability is key if the athlete is going to perform at top level. If a protective garment component interferes with an athlete's comfort and agility, it is very tempting not to put it on
when it's time to suit up for the competition. "This is what we saw after getting feedback from the Dutch skating team," he said. "Because of the lack of comfort in other styles, some skaters didn't want to wear the protective underlayer. The traditional skin suits are worn over that layer, and it tends to wrinkle and become very uncomfortable." A similar issue also applies to motorcycle apparel and fencing suits, he said.
"Comfort is so important to the sports apparel industry that our partners are trying to find the right balance between comfort and protection," he added. "What is really superior to this Dyneema technology is the combination of light weight, comfort and maximum protection."
Commenting on the durability and comfort levels of Dyneema, van Oosterbosch said: "Unlike other high-performance fibers like aramids, Dyneema is chemically inert and hydrophobic. Because of its intrinsic chemical inertness, it withstands repeated washing and exposure to chemicals, thereby retaining its impact, cut and abrasion resistance. The hydrophobic property prevents water absorption, so Dyneema retains its light weight and comfortable product features."
Depending on the application, Dyneema may comprise either the inside or the outside of the fabric, which may comprise a single layer or multiple layers. The blended fabrics may be woven or knitted, also depending on the application, and variations within the knits and weaves are possible as well. For example, the close-fitting short track racing suits are a knitted fabric, while the fabric for professional and even recreational urban-style motorcycle jeans is woven.
For more information about the use of Dyneema in sports apparel applications, contact Nathali
Donatz 31-46-476 6466; press.dyneema@dsm.com.
June 2010