F
or those seeking to manufacture and market certifiable, sustainable bamboo-based apparel and home-fashion textiles, a natural bamboo fiber developed by Switzerland-based Litrax AG offers an alternative to bamboo-based manufactured viscose fiber, which has come under fire because of inaccurate claims of eco-friendly and other claims made by its marketers. Litrax-1®, extracted
directly from the stalk of the bamboo plant, is processed mechanically using environmentally friendly enzymes into a soft, luxurious fiber — similar to linen in its processing and comparable to cashmere in its feel — that retains the essential properties of the bast fiber that is its basis.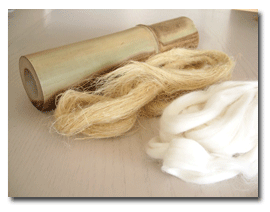 Litrax-1® natural bamboo fiber is extracted from the stalk of the bamboo plant by lateral
crushing and decortication. The raw fiber is then processed using fine-tuned enzymatic cocktails
and made into fine, silky-soft sliver for spinning.
When bamboo first was promoted for textile uses in the early years of this decade, the viscose fiber typically produced from it was hailed as an environmentally friendly, biodegradable material because it is derived from the bamboo plant — which in itself is quite environmentally
friendly, as it is very fast-growing and renewable; needs no pesticides, fertilizers nor irrigation in its cultivation; causes no soil erosion; and absorbs considerably more carbon dioxide than an
equivalent planting of trees. However, the typical rayon production process used for most manufactured fiber derived from bamboo uses caustic chemicals whose emissions can harm not only factory workers but also the environment when not properly controlled within the factory. And the resulting fiber — whether processed using the rayon process or a closed-loop, eco-friendly, modified lyocell process — does not resemble bamboo at all in its original form. In addition,
widespread claims that the fiber offers antimicrobial properties cannot be substantiated, and its biodegradability has been questioned because it does not break down within a reasonably short time after disposal in a landfill or in a recycling scenario.
Concerns over truthful marketing of the viscose fiber have led the Federal Trade Commission to require that marketers of products made from these fibers state that their products contain rayon made from bamboo, and also that they refrain from making claims that their products provide benefits such as inherent antimicrobial properties or biodegradability.
Litrax was formed in 2005 to develop materials using environmentally friendly, renewable sources. It took several years to refine the process the company is using to make Litrax-1 natural bamboo fiber, said Felix Stutz, Litrax's president and one of its founders.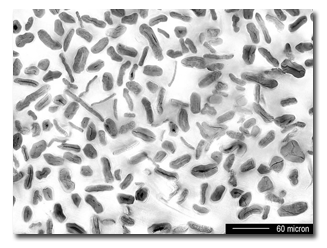 A micrograph showing  cross sections of natural bamboo fibers shows the inherent
variations of thickness in the fiber walls.
"The first two years were very discouraging — at first, we were making large-decitex [dtex] fibers, but we refined the process and got them down to about 5.8 dtex," Stutz said. "In order to process bamboo — it's very hard, more stubborn than flax or hemp — you need a lot of steps from the initial decortication to extraction to the enzymatic process. You can't field-ret it like linen because it mildews," he said, noting that instead, it undergoes various processing steps using "fine-tuned enzymatic cocktails."
After four years, Litrax presented its natural bamboo to several interested spinners, "and from there, we were successful within about six months," he said. "Schoeller [GmbH &Co. KG,
Austria] has spun worsted from natural length fiber, and later we developed a clean sliver for ring spinning from fiber cut to about 52 millimeters (mm), which allows us to make very nice yarns."
The fiber, which is processed in France, has a natural staple length between 70 and 150 mm, and is cut to shorter lengths for processing. Litrax's ring-spinning partners include Italy-based Filati Maclodio S.p.A. and Slovenia-based Predilnica Litija.
The mechanical process used to make Litrax-1 makes the fibers stronger than viscose made from bamboo. "This is a fundamental difference," Stutz explained, noting that the viscose, processed
using harsh alkaline chemicals, is extruded and has a cell structure that is nothing like the original cell structure. "They are two entirely different products. Natural bamboo is a very irregular fiber, with thin- and thick-walled fibers. and is stubborn to spin. Thus far, we have only about six spinners that can spin it."
Litrax describes its natural bamboo fiber as "hypersoft like cashmere." It also offers good breathability and moisture management; is highly absorbent of water and also absorbs odors, though no antimicrobial claims are made; feels cool in warm weather, but when blended with merino wool or certain other fibers is warming in a cold climate; and has a silky sheen. The fiber has received Oeko-Tex® Standard 100 certification for compliance with regulations and criteria related to the
presence of harmful substances. The yarns produced by Schoeller also are certified to the bluesign® standard for optimization regarding environmental, health and safety criteria throughout the supply chain and in all manufacturing processes.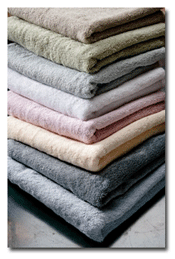 Litrax-1 can be blended with Tencel® or cotton for terry towels and robes.
Litrax-1 can be used alone as a worsted yarn for woven fabrics, but Stutz said its real appeal is as a component in a blend, in which the natural bamboo provides complementary properties to or reinforces properties of the partner fiber. One fabric that recently made a splash in Europe is a silk/bamboo denim for jeans that soon will be available at retail. Other possible blends include bamboo with Tencel® or cotton for terry towels and robes; bamboo with merino wool, silk or cotton for shirts and suits; and bamboo with Tencel or cotton for knits.
With regard to Tencel, Litrax is cooperating with Austria-based Lenzing Group to offer Litrax-1/Tencel blends, which Stutz said will have a highly sustainable and well-regarded ecological profile. The fiber products will be spun into worsted and ring-spun yarns by four spinning partners. The Litrax-1 fibers will feature special DNA coding for authentication purposes. Describing the blend as "amazing," Stutz said Litrax-1 adds unprecedented stability to the blend and enhances the soft feel of the resulting material.
"We started working with Lenzing about a year ago," he said. "All the tests were very successful, and we are very pleased and actually surprised about the results. Knits from the combined product are very homogeneous compared with linen/Tencel blends. It won on all points —
mechanical, strength, fineness, touch and the dyeing process. We didn't expect all of this, but we did a good job in the final cleaning steps and the way we do the sliver — for that, we have a partner in France, who is also doing sliver for the U.S. and Turkish spinning industries."
"We see Lenzing as an ideal partner due to their world leadership in man-made cellulose fibers such as Tencel, Lenzing Modal® and Lenzing Viscose®," Stutz said. Lenzing's Botanic Concept stresses the botanic origins of these fibers and their optimized and closed-loop production processes. Even the waste and by-products from viscose production are recycled or sold, and the company has received the European Environmental Award for its environmental protection efforts.
Litrax is targeting higher-end fashion markets with its natural bamboo products, which are more expensive to produce than is viscose made from bamboo. "I believe this is going to be the start of a very interesting market niche. I doubt that this will compete with cotton, and it will probably cover at most 5 percent of the industry, but it will be a very pleasant contribution and will add a bit of sustainability in terms of material resources. Blends are the secret of success, with Tencel for summer, wool for winter and silk for high-end," Stutz said, adding that denim also will be offered.
Litrax also is working to develop bioplastics, and stranded fibers for the furnishing industry. "We're also grinding bamboo into nanopowders for very extraordinary effects in performance wear,' Stutz added. The powder would be incorporated into polyester, nylon and other extruded fibers.
For more information about Litrax-1®, contact Jack Ganis +1-508-876-1070, jack.ganis@litrax.com; or Valerie Cooper +1-479-442-7284,
info@hearthuntersconsulting.com; or visit www.litrax.com.
April 2010