G
ainesville, Fla.-based Quick-Med Technologies Inc., developer of antimicrobial and matrix-metalloproteinase-inhibitor (MMPI) technologies that have applications in healthcare, consumer and industrial markets, has introduced Stay Fresh™ antimicrobial technology developed specifically for textiles. The company reports the new technology features an eco-friendly active ingredient in a skin-friendly formulation, and provides unsurpassed durability and efficacy in
killing a very broad spectrum of pathogens — including both Gram positive and Gram-negative bacteria, as well as fungi and viruses — even after as many as 75 home launderings. The formula, which can be applied using conventional processes to fabrics made with a wide range of natural and man-made fibers, also is claimed to brighten colors and facilitate the cleaning process.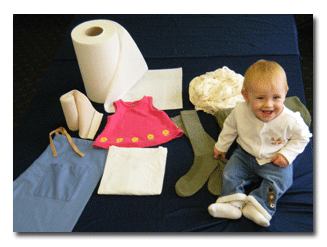 Potential applications for Quick-Med's Stay Fresh™ antimicrobial technology pictured above
include fabrics and pulp for hygiene and medical applications, infants' and children's wear,
pajamas, socks, T-shirts and surgical scrubs.
While the company will not divulge the technology's active ingredient because patents are pending, Dr. Jerry Olderman, vice president of research and development, did list a number of
antimicrobial substances it is not: "It's not anything that's being sold for textile use today, such as silver, copper, triclosan, biguanides, cationic lipids, organic halides, light-activated antimicrobials or other substances. All those things it is not come with their own special
shortcomings," he said, noting such issues as limited spectrum efficacy, durability beyond only a few launderings, discoloration of the textile and environmental issues related to various established technologies. "In addition, Stay Fresh is durable to bleach; and is non leaching, nontoxic and OSHA [Occupational Safety and Health Administration]-compliant."
Olderman said the active chemistry is already being used on a different material and is registered with the Environmental Protection Agency (EPA) registration for that use. Quick-Med is in the process of applying for EPA registration for the new textile use. The company also will be
seeking approval from the Food and Drug Administration for certain medical textile applications. In the meantime, said Quick-Med CEO J. Ladd Greeno, the company is offering the technology for its ability to destroy odor- and stain-causing bacteria and fungi.
Quick-Med's product platforms also include two other technologies: NIMBUS® (novel intrinsically micro-bonded utility substrate), which uses advanced antimicrobial polymers that destroy bacteria at the cellular level and has FDA approval for use in wound dressings and related products; and MultiStat® MMPI technology, which inhibits MMP production in the skin that is triggered by chemicals, sun exposure and natural aging. Stay Fresh is an outgrowth of NIMBUS, but
is a completely different technology for textile use, Greeno said.

How It Works
Asked about the technology's effect on beneficial bacteria, Greeno explained: "The treatment is on the textile, and it controls bacteria in the treated textile. It won't leach into the skin surface, and it won't cause problems with home laundry water effluent," he added noting reports of silver washing off in the laundry under certain circumstances.
"The mechanism of destruction is very different from cations, which break the cell wall and membrane so that the walls fall apart, the cell collapses and its contents leak out, and the cell is no longer viable," Olderman said. "Stay Fresh technology works on the outside of the cell, and destroys the chemistry of the cell wall, converting the cell components to inert, nonviable matter."
Greeno noted that garments treated with Stay Fresh can be laundered in hot or cold water using anionic detergents offered widely for home laundering, with or without chlorine or non-chlorine bleach, without impacting its efficacy or causing discoloration. "Many antimicrobials
are blinded by some of the popular detergents and softeners," he said.
Stay Fresh is applied to the fabric using a conventional padding process. "The finishing process can be combined with other finishing steps including softening, wicking and/or antistatic treatments," Greeno said. "The finishing process is compatible with other activities and equipment
in the mill, and the cost of the substance is low, so the overall cost is a fraction of the cost of other technologies."

Downstream Use

Greeno said Quick-Med is working with a range of customers to bring Stay Fresh to consumers. "We developed the technology and will license it to customers. We are targeting broadly essential apparel such as underwear, T-shirts, socks and intimate apparel; sportswear for both the casual sports enthusiast and the serious user; uniforms for utility workers, first responders and service workers; and bed linens and towels. We're looking at both consumer and commercial markets, and have had discussions with customers in each of those areas. We think Stay Fresh really runs circles around what's currently available and can offer our customers a way to differentiate their products," he said.
One customer is a cotton apparel manufacturer that plans to use Stay Fresh for an underwear application for a government agency. "The customer set extremely rigorous requirements," Olderman said. "Nothing up to now has proven acceptable, and the closest is too expensive. After five months of third-party testing and four trials, the customer found that Stay Fresh met all its requirements, and will replace its current solution with Stay Fresh once its current inventory is
depleted."
For more information about Stay Fresh™, contact J. Ladd Greeno +888-835-2211 Ext. 102; lgreeno@quickmedtech.com.
December 2009