Customers enjoying their lattes at an outdoor café or lounging by the hotel pool will soon be able to run their laptop computers or recharge their cell phones and other portable electronic devices via solar power generated by the umbrella overhead. SKYShades LLC, a Longwood, Fla.-based designer and manufacturer of tension-membrane shade structures, is integrating Lowell, Mass.-based Konarka Technologies Inc.'s Power Plastic® organic photovoltaic (OPV) thin-film technology into its SKYShades® retractable and fixed architectural membranes to create the Powerbrella™, with the first application being umbrellas and awnings that can provide remote power for such purposes.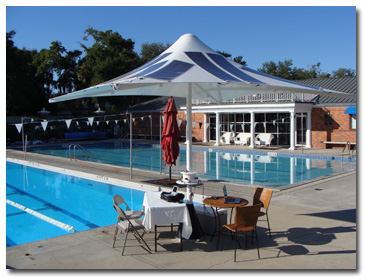 Power Plastic® strips enclosed in pockets welded
to the Powerbrella™'s surface provide solar energy
to run laptop computers or recharge other
portable electronic devices.
The marriage of architectural membrane and OPV technologies was envisioned by SKYShades President Barry Maranta, who initiated discussions with Konarka. "During an early trip to Konarka
to discuss the integration of the technologies, we saw a globe at the airport offering power for laptops and such," said Joe McKenna, executive vice president. "That gave us the idea about how an
umbrella pole could provide charging access."
Konarka's OPV technology — based on a photo-reactive polymer material developed by Konarka Cofounder and Nobel laureate Dr. Alan Heeger — can be printed or coated onto a lightweight, flexible substrate using traditional roll-to-roll manufacturing. Power Plastic offers certain
advantages over traditional silicon-based solar technologies in that it collects energy up to 70° off axis both from the sun and from artificial light, and is tunable to absorb light from specific wavelengths to broad spectrum; in addition to being inexpensive and made using all recyclable materials. Konarka is working on improving the efficiency of its technology, but for now it is sufficient for the remote, off-grid applications SKYShades is developing, McKenna said. As that
efficiency increases, it will be possible to provide power for more substantial needs and even feed electricity back into the power grid.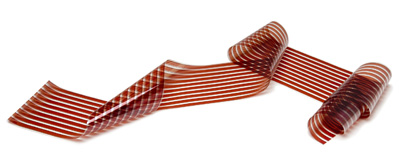 The Powerbrella's waterproof polyvinyl chloride membrane has pockets welded onto it to hold and protect the Power Plastic strips, which are attached by electrical wiring to batteries built into the umbrella's structure. The strips, which have a shorter life cycle than the membrane, can easily be removed and replaced as needed or as Konarka improves its technology. In field-testing, the Powerbrella has demonstrated its durability to harsh weather conditions, as well as its
capacity to generate sufficient electricity for its intended task.
Another application in development is covered airport, office and shopping center parking structures that could provide power for recharging hybrid electric cars and other such vehicles and/or for outdoor lighting. The Powerbrella also could be made available for private residential settings.
---
For more information about Powerbrella™, contact Joe McKenna +877-597-4233; joe@skyshades.com; www.skyshades.com.
July/August 2009