Kenaf, a fast-growing plant that absorbs carbon dioxide at one of the highest rates of any plant, is taking its place in the sustainable architecture arena as the raw material for an environmentally friendly biomass architectural fabric membrane that can be used in temporary
installations to cover large areas but which at the end of its useful life can be fully recycled into paper products that traditionally would be made from wood pulp. Birdair Inc. – a Buffalo, N.Y.-based designer and builder of lightweight tensile structures and long-span roofing systems,
and a member of the Japan-based Taiyo Kogyo Group – is offering the membrane, branded Kenafine® and manufactured by Taiyo Kogyo, in North America. According to the company, Kenafine is the first and
only fully recyclable architectural fabric membrane available worldwide.
The bast fiber of the kenaf plant, a member of the mallow family that includes hibiscus and okra, traditionally has been used in Asia and Africa to make cordage. More recently, it has generated interest in the United States and other countries as an annually renewable source of fiber for a range of applications including pulp and paper products as well as insulation, animal bedding, decorative fibers and fabrics, oil absorbents, and various other uses.
According to Birdair, Kenafine, which has a durability range of five to six years, is especially appropriate for use in temporary structures, for example, a venue for an Olympic competition or other short-term event. Comprising a kenaf/polyester base fabric coated with a thermoplastic resin, the membrane contains no polyvinyl chloride and therefore produces no toxic emissions when burned, but the entire product is fully recyclable into paper products via a water-based process that uses no chemicals, unlike the process for making paper from wood pulp.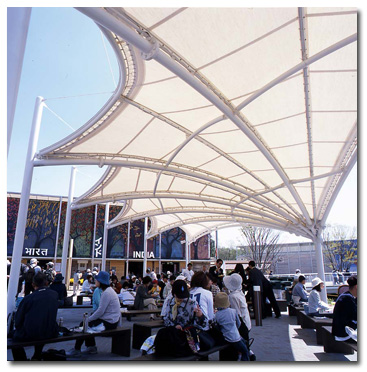 The shade shown above was one of several temporary tensile structures
featuring Kenafine® architectural fabric membrane
at EXPO 2005 in Aichi, Japan. The newest version of the membrane is offered in North America
by Birdair Inc.
Kenafine functions similarly to traditional architectural fabric roofing membranes as a highly moisture-resistant, translucent covering that provides an optimal level of natural daylighting. Use of the membrane also enables structures to receive credits in a range of US Green
Building Council Leadership in Energy and Environmental Design categories.
"Kenafine is a unique step forward in realizing sustainable design through tensile architecture," said Michele Roth, marketing manager, Birdair. "The ability to now be able to recycle fabric membrane into paper products makes tensile design both an environmentally
responsible and aesthetically pleasing addition to the building envelope."
Taiyo Kogyo has built several structures in Japan using Kenafine, including facilities featuring an initial version of the membrane at EXPO 2005, The 2005 World Exposition, themed "Nature's Wisdom" and held for six months in Aichi, Japan.  That first product was designed
for structures that would be used for no longer than one year. Taiyo Kogyo subsequently partnered with Japan-based textile manufacturer Sakai Ovex Co. Ltd. to improve the durability of the material
to more than five years by adding the thermoplastic coating on both sides of the fabric. The newer version of Kenafine debuted on the occasion of the G8 Hokkaido Toyako Summit from June through
August 2008, when it covered the Toyako Visitor Center Eco Gallery – an 800-square-meter structure that housed the Hokkaido branch of the Ministry of the Environment's environmental learning exhibition.
For more information about Kenafine®, contact Michele Roth, 716-633-9500, mroth@birdair.com.
June 2009